General
Decorative ideas for a dinosaur party
Are you planning to hold a dinosaur party? Would you like to create original and fun decorative elements?
Today, we bring you some decorative ideas for a dinosaur party. In themed parties, it is essential that we try to inspire every part of our decoration in the topic we've chosen. It may sound complicated but it's quite simple, since you can decorate everything from the walls to the food easily. You just need to use your imagination and find some ideas that you can make with the resources you have.
The key is using the right colours that remind us to the theme we've chosen and the essential elements. For example, in this case, dinosaurs would be the essential elements that can be missing and the colours would be green and brown tones that remind us to wilderness and nature. You should find the way to transform your house in your own version of Jurassic World.
Original idea for a dinosaur party
Would you like to recreate the birth of some dinosaurs? We're sure your children and guests will love this idea. There will probably be a lot of expectation until the dinosaurs are completely "outside" of their eggs. For this idea, which may seem complex, you'll just need some miniatures of dinosaurs, water balloons, water and freezer.

Source: pagingfunmums
Introduce the miniature dinosaurs inside the water balloons and fill them with water to create your dinosaur eggs. When all the "eggs" are ready, you can introduce them into the freezer. The result will be the solid eggs in the following picture.
Source: littlebinsforlittlehands
You can keep the frozen eggs on a bowl so that the kids and guests can see how the dinosaurs are born during the party.
Inspire the food in the world of dinosaurs
Food is an element that is never missing in a good party and it's ideal for complementing the decoration. Decorating cakes and cupcakes with extraordinary and truly creative decorations is a trend nowadays and it can provide you very original decorative elements. However, if you're not too good at it or you don't want to spend too much time or money, you can opt for simpler ideas. You can prepare red juices as if they were blood, crumble mini chocolate cakes so that they look like soil, making sandwiches or cookies with dinosaur shape, etc.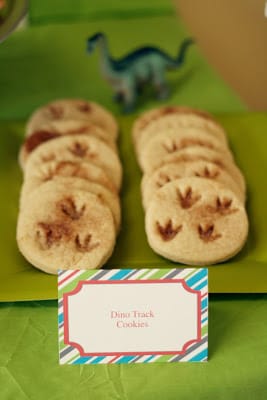 Source: buggieandjellybean
For example, these dinosaur track cookies are easy to do and they're perfect for complementing a dinosaur themed party.
Source: catchmyparty
These nests with dinosaur eggs are definitely one of the best ideas for decorating a dinosaur party with "themed food". You can create the nests with muesli and melted chocolate and add some candy eggs or even create your own eggs with fondant.
Transform your house into wilderness
If you want to truly inspire your party in the world of dinosaurs, the best option is transforming your house into a wild jungle with a lot of trees, green elements, dinosaur tracks, etc.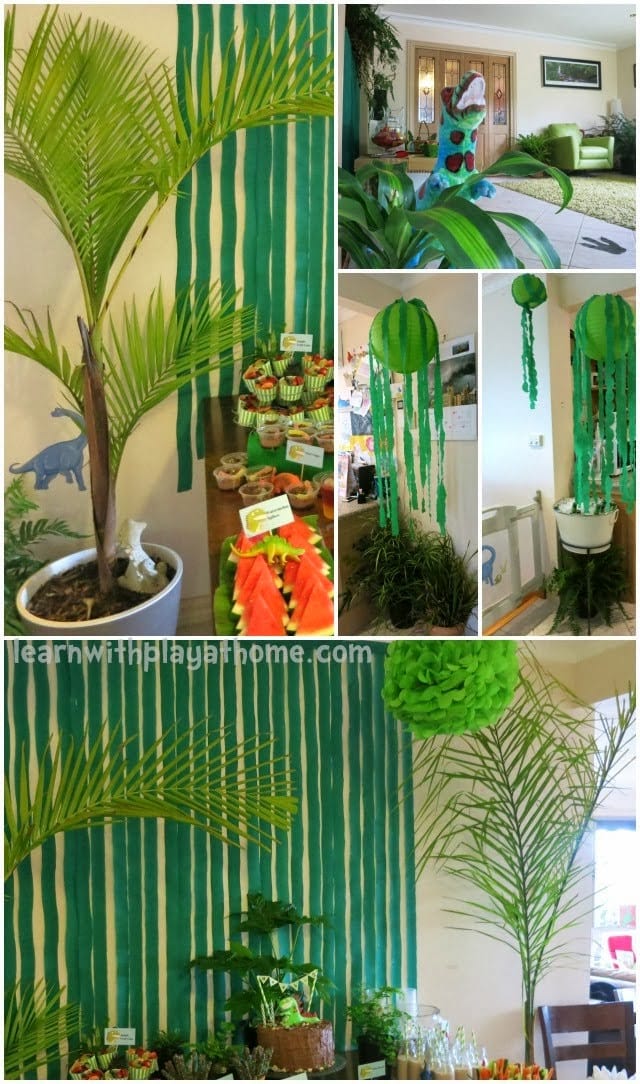 Source: learnwithplayathome
You can use the plants you have at home and create more green elements with paper, such as garlands, paper curtains or even paper leaves that you can spread around the rooms.
Create interactive and entertaining decorations
This last option is the most fun and entertaining for kids, since they'll be able to interact with the decoration and enjoy a real version of the dinosaur world. For example, this nest made with paper mache is an easy decoration that they'll be able to play with. They can even open the eggs at the end of the party and find some dinosaur inside.
Source: catchmyparty
You can also create games that they can play during all the party, as this sandbox where they can pretend to be archaeologists looking for a new specie of dinosaur.
Source: karaspartyideas
As you can see, inspiring a party in the world of dinosaurs can be quite easy if you use your imagination. You just need to think about what kids will like and enjoy. Try to make that your home look like Jurassic Park and try to invent some games where they can play with dinosaurs and discover new things about these creatures.
You can share more ideas with us in the comments and in our Facebook page.