Lace jars look amazing with a candle inside and they can give your home an excellent appearance when you have guests for dinner. They are a great idea that can be used not only at Christmas, but also on the following occasions that your family and friends come home. These jars will give your home a romantic look and they combine really well with winter party decorations.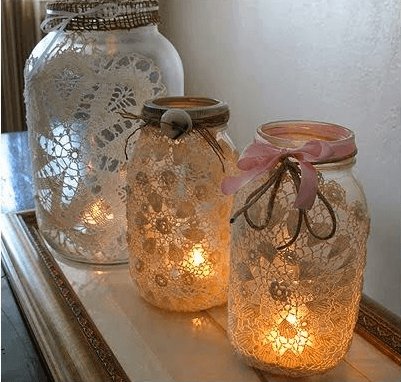 Materials needed
For making these lace jars that will serve as a candle holder, you just need these materials:
Crystal jars, like marmalade pots.
Lace
Glue
Rustic fabric
How to do it
For making these beautiful pots you just have to follow step-by-step the images below. You can also choose different laces or different kinds of fabric to decorate the pots, the process would be the same.

As you can see, with just a little time and patience you can make this beautiful project.
Then, you have to choose the right candle. It is better to choose a small one so that it doesn't heat up the glass.
Besides, you should put the candle holders in a place where they are clearly visible. First, because they look really beautiful, and then, because they can be dangerous if they are not under supervision.
If you like the article you can share it with your friends via Facebook.
Via: Decoración 2.0