In a few weeks it will be Halloween, and many children at school are already starting to prepare for the party. But also at home. However, when you live in a small space like an apartment or a flat, things get complicated because you don't have much space to unleash your creative ideas. But what if we give you Halloween decoration ideas for small flats?
The goal will be to turn your charming flat into a horror scene worthy of a horror movie. And we're telling you it can be done. Want to know how? Well, pay attention to the ideas we're going to give you below.
Make use of the walls
When you have a small flat, the walls, and everything in them, count for decorating for Halloween. Plus, that will help keep the middle from being too cluttered.
And what can you put here? Well, you could hang paper bat decorations, haunted mirrors, spider webs, spiders, garlands… Anything that doesn't need to be on the floor and can give a spooky look to your home.
Miniature pumpkins
In general, pumpkins tend to be large. And when you put one or two in a small flat, it usually becomes too crowded. That's why, instead of large ones, opt for miniature ones.
This way, the Halloween decoration for small flats won't look overloaded and you can place them on tables, windowsills, shelves, or even hidden on the walls (with a bit of fishing line or something similar that is not visible, they will appear to float).
Candles and dim lights
Here you have to be careful. First, because using candles can accidentally cause a fire. And that's the last thing we want to happen. That's why, when using candles, use LED lights that are safe and hardly use any electricity.
As for the lights, make sure they are dim and change color. If you can place some cotton or gauze around them to make the light blend in better, it will give a darker look. However, if you notice that the light bulbs are getting hot, it's better to remove them because they can catch fire.
Another option is to use a little ice and a fan to create a fog effect, like in a movie.
Temporary murals
Do you have artists at home? It can be children or adults. The idea is to take a roll of continuous white paper and wallpaper all the walls of the house with it. Then, in the days or weeks before Halloween, start painting.
What to paint as Halloween decoration for small flats? A haunted cemetery, a dark forest… Anything that is scary. But, if you do it well, it could even create the sensation that your house is much bigger, as if it blends in with the drawing and you can keep walking and enter it.
They are a way to give your house a completely new look. A terrifying one, that is (although it will give you ideas to create other things).
And the best part is that it won't take up space for walking or moving around the house.
Floor decoration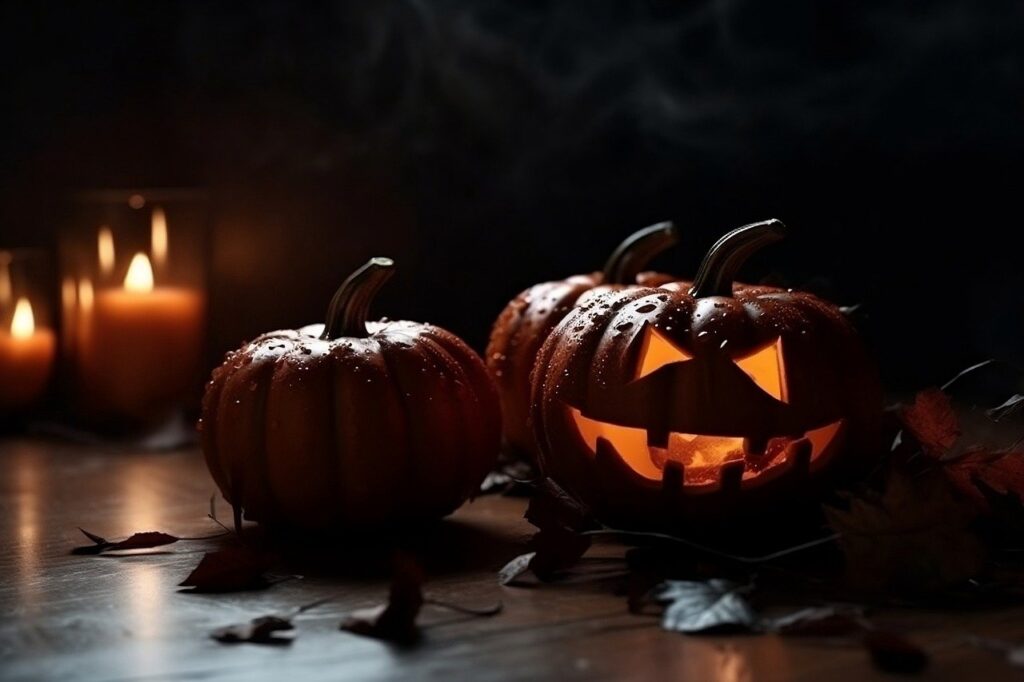 Since Halloween decoration for small flats needs to be well thought out, when it comes to floor decoration, we recommend always choosing vertical items.
For example, hanging sculptures, ghostly dolls, tombs…
That doesn't mean you can't put other things. But being a small flat, you need space for guests to walk without tripping over something every now and then.
Accessories for Halloween decoration for small flats
As Halloween decoration for small flats, nothing beats accessories: themed tableware, Halloween pillows, dolls, skeletons…
The goal is to scatter them around the house and blend them in with the decoration to make it more realistic.
Similarly, consider making Halloween-themed snacks and finger foods with special recipes (that will scare you visually, but taste amazing when you try them).
Outdoor Halloween party
What if the Halloween party were held outdoors? It all depends on the weather and what you are allowed to do. You see, many times people live in apartment buildings that have communal courtyards.
Well, you can ask for permission to organize a Halloween party for all the children and guests in that community, and thus participate in a social activity, get to know each other, and also do something for the children.
This will allow you to create a much larger, scarier, and more fun atmosphere, while also setting up activities for the little ones to have a great time without having to go out on the street (and keeping a closer eye on them).
Specific theme Halloween decoration for small flats
Finally, the last idea we can give you is to choose a specific theme for your Halloween decoration for small flats. It can be as simple as "Night of the Witches" or something more elaborate like "Frankenstein's Laboratory".
Are you up for scaring your friends and family with your Halloween decoration for small flats?
via: MiMub in Spanish