Rustic style is one of the most valued in decoration. It appears from the essence of country houses, which use to be warm and natural. Through time, this decorative trend has evolved and nowadays, rustic interior houses doesn't give up to the current needs. Here, you'll find some ideas for decorating this rustic interior houses.
Source: Zara Home
When we think about rustic interior houses, wood and stone elements come to mind as the main characters of the decoration. However, rustic interior houses have also introduced new materials and concepts.
Country houses are linked to the landscape where they're located. The harmony on the construction and the architectural aspects are essential to understand their origin. However, while on the outside they change a lot from one place to another depending on the landscape, the interior can be really similar.
New rustic interior houses
Source: Car Möbel
One of the keys of the rustic style is the use of natural materials, not only in decoration but also in the construction of the building. Nowadays, country houses keep using wood on the floor and ceilings, as the main elements of the design.
Source: Cranmore Home
In fact, if we have into account that restoring a country houses is better than building it again, we should understand that wood and stone are the best materials for building it.
Source: Zara Home
And these materials are also essential in the decoration. It doesn't matter how much life has changes, during the 21st century, quality wood keeps being a key in rustic interior houses. The best furniture is made with wood, although finishes can be very different. Finishes such as stripping or furniture painted with chalk paint are very trendy.
The most country like floors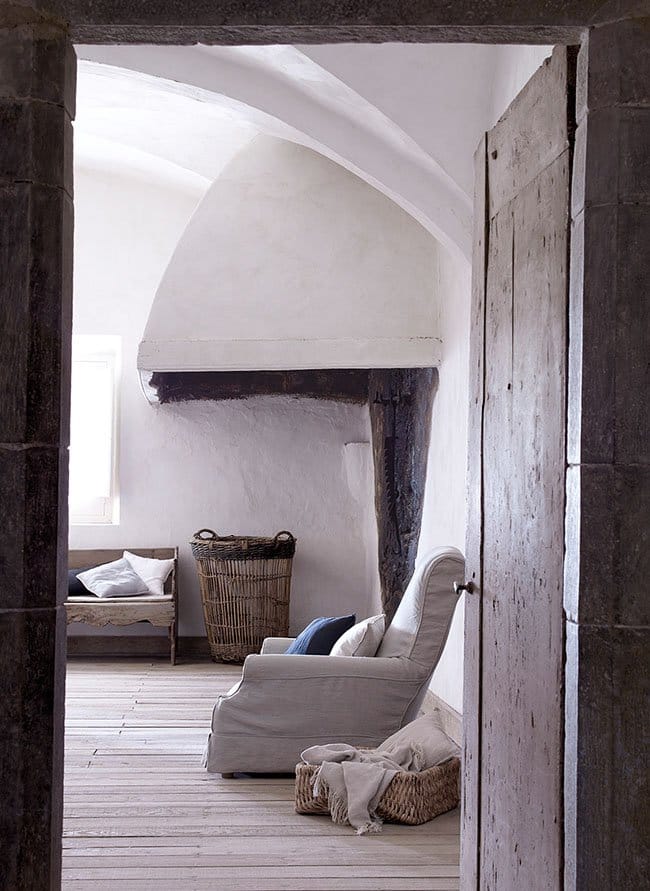 Source: Zara Home
Traditionally, clay floor was a success and it still is in this kind of environments. But there are other newer materials that are becoming more and more important such as polished cement that provides a beautiful industrial touch to the space, a bit crude, but it complements the rustic style wonderfully.
Source: Zara Home
Also, hydraulic tiles are a trend and usually with spectacular geometrical designs. You can combine them with wood, stone or cement in order to counteract its huge decorative power.
Old and current walls in rustic interior houses
Source: Zara Home
Forget about the perfect finishes in your walls, as if they were for a house in the city. The more authentic, the better. Fill your walls with mortar and create unique irregular finishes for your walls if you want to create a superb rustic interior design.
Wallpaper is also a good option, specially in the bedroom. You can opt of flowerlike or more romantic designs and combine them with simple paints to create gorgeous bedrooms.
How to choose textiles and complements
Source: Car Möbel
Textiles are a key element when defining the style of an environment. Depending on the fabrics you choose for your decoration, you'll get a different effect. In this case, in rustic interior houses, natural fibres such as linen or cotton are ideal. And in terms of colours, white and brown earth tones fit also very well. Since they are colours that reminds us to the nature and the landscape.
Source: Zara Home
About the complements you can use in rustic interior houses, you won't need many spectacular complements. Don't overload the spaces and add just some natural and simple elements that improve your decoration. Branches, stones or any natural element can complement perfectly a rustic interior houses. But this kind of style already has a lot of personality, so too many decorative elements could deteriorate the decoration.
Via decoración 2.0