If you are thinking about changing your home decoration, take a look to these tips for learning a bit more about interior decoration. These tips answer the typical questions people like you, who want to create their home, make to home designers. How do we enlarge a room? How do we combine cushions with our sofa? Which color do we use for this wall? And which one for the ceilings? If you want to get some answers to these questions and a beautiful home decoration, keep reading!
Combine cushions with the sofa
By the hand of the interior designer Melissa Warner, who created the composition we show in the following picture, we can learn a lot about how to combine cushions with the sofa. This will introduce a lot of personality into our living room. As we can see, the grayish blue sofa with two white cushions with circular texture, two dark orange, beige and white printed cushions is an ideal combination. This living room plays with two different ranges of colors, blue-green and red-orange, mixed with white and beige.
Provide spaciousness to your room
A good trick for enlarging your rooms is their own decoration. Apart from choosing the colors carefully and having a good lighting, you can make it look more spacious by extoling it with a really big bed. Narrow and open furniture provide spaciousness to small spaces as well. Change the classic chest of drawers for a shoe rack and place some shelves. Transparent shelves are also a great option, because they don't take any visual space.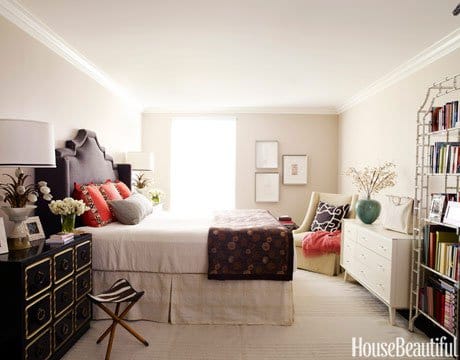 Open furniture
For this option, we need to have everything well organized in our wardrobes and furniture, but it's the perfect way to show that decoration goes far beyond the exterior aspect. Glazed furniture are also a good choice, especially for the living room, since it's where we keep our flatware and other tableware objects that can be really beautiful.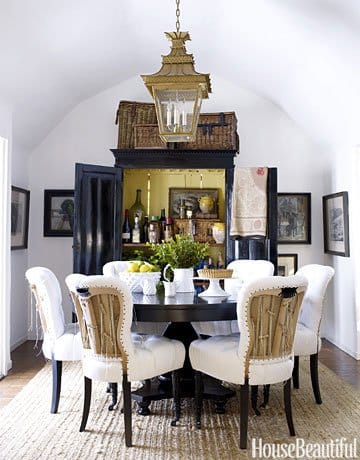 Black walls
The designers Kristen Fitzgibbons and Kelli Ford are clear about it: black can be the best choice for provide visual spaciousness to a room, on the contrary of what everyone believe. Take a look to this example where black is the main tone of all the room decoration.
Paper for decorating walls, doors, furniture…
This new design of Melissa Warner shows us the numerous applications of decorating paper, not only for covering the walls but also for wardrobes, chest of drawers, or even your lamps. It's all about imagination!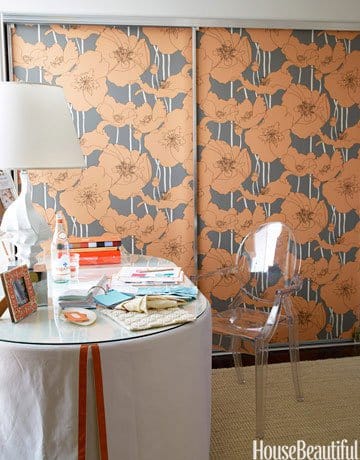 What do you think about this home decoration tips from great designers? We hope you have liked it! You can share your opinion and more ideas with us in the comments or in our social networks.
Source | housebeautiful.com
Via decoración 2.0