Decorating in black and white is quite common and it provides an elegant touch to many spaces. However, we don't usually take into account the black and white combination when we're decorating kids rooms. Today, we'd love to share some black and white decorations for kids rooms, to show you how beautiful and fun they can look.
Black and white is not a synonymous of serious or boring, it can create a very magical and cosy environment perfect for kids rooms. This colours combination brings a lot of decorative possibilities, which can be fun and creative. Moreover, black and white are easy to combine with bright and pale colours depending on the kids personality or on your decorative tastes.
Black & White decorations for children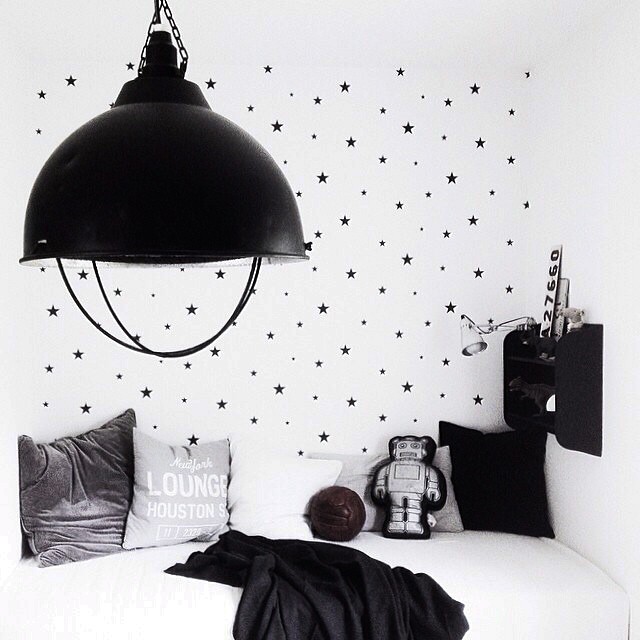 Source: ink361
This first idea is perfect for those kids that love robots and futurist stories. This black and white decoration is really original, since with just these two colours and some shades of grey, they've created a whole universe. Moreover, you just need to use some robot or aerospacial toys that your children already have and some start sticks. You can create a very creative room with just some simple details.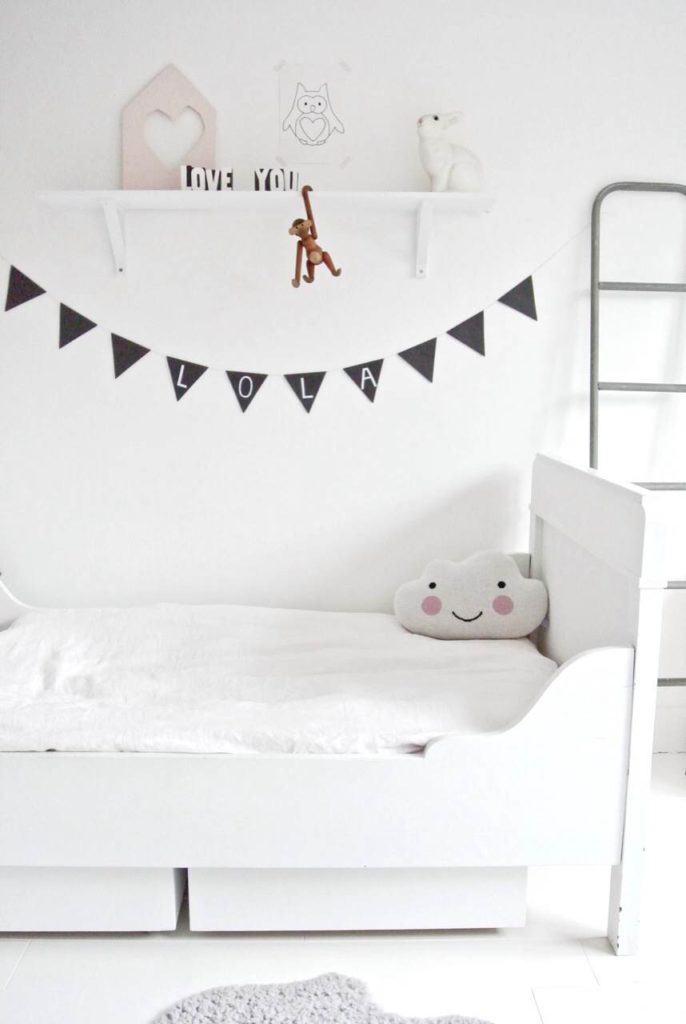 Source: lekkerfrisss
Black and white decorations can also look great in girls rooms, specially in combination with other colours. For example, in the picture above, they've introduced some details in pale pink and the result is cosy and beautiful.
Combining black and white with other colours is a wonderful idea. You can use black and white as the main colours of the room, but some bright coloured details will liven up the room and create a fun environment.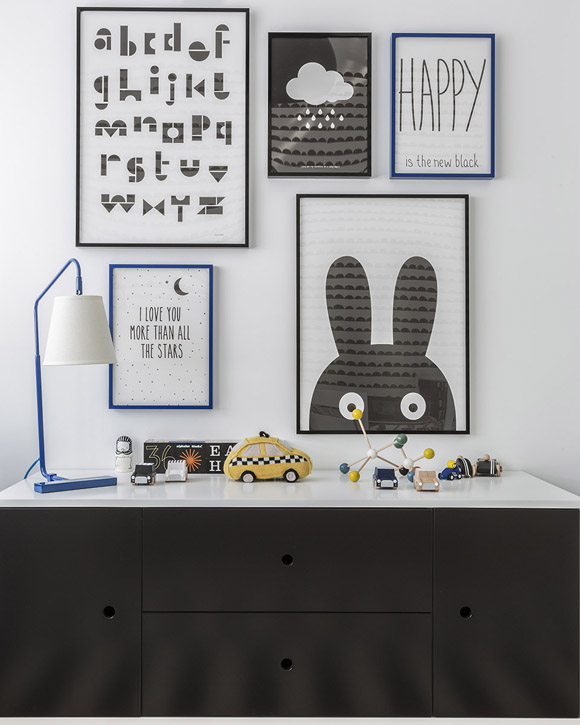 Source: veryrosenberry
Your furniture and frames can be in black and white, but you can also alter some black frames with blue, red, green or any other bright colour you like. Toys, lamps and cushions are ideal for introducing some coloured details in a black and white decoration for kids rooms.
Printed bedsheets and wallpaper are also a good way of creating black and white decorations. If the black and white combination seems to serious, you can counteract it choosing funny and childish black and white designs for your walls, cushions and bedsheets.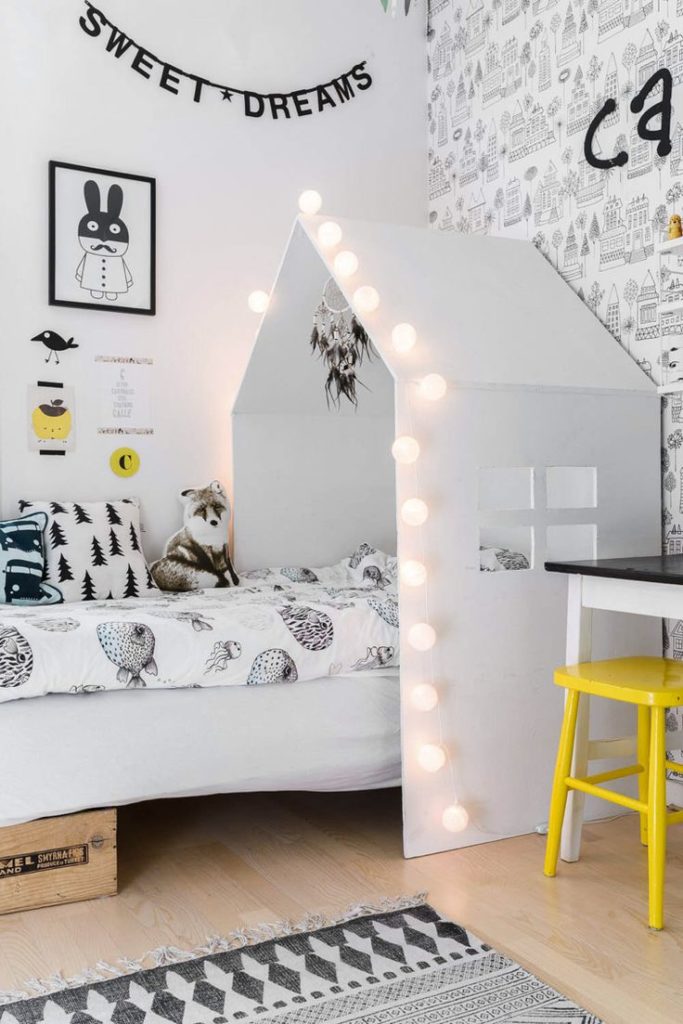 Source: mommodesign
Furthermore, a simple but original headboard can also be a superb decorative option. As you can see on picture above, they've built a white house headboard for decorating the room. This creative idea, with the lights garland used as a lamp included, creates a lovely childish environment.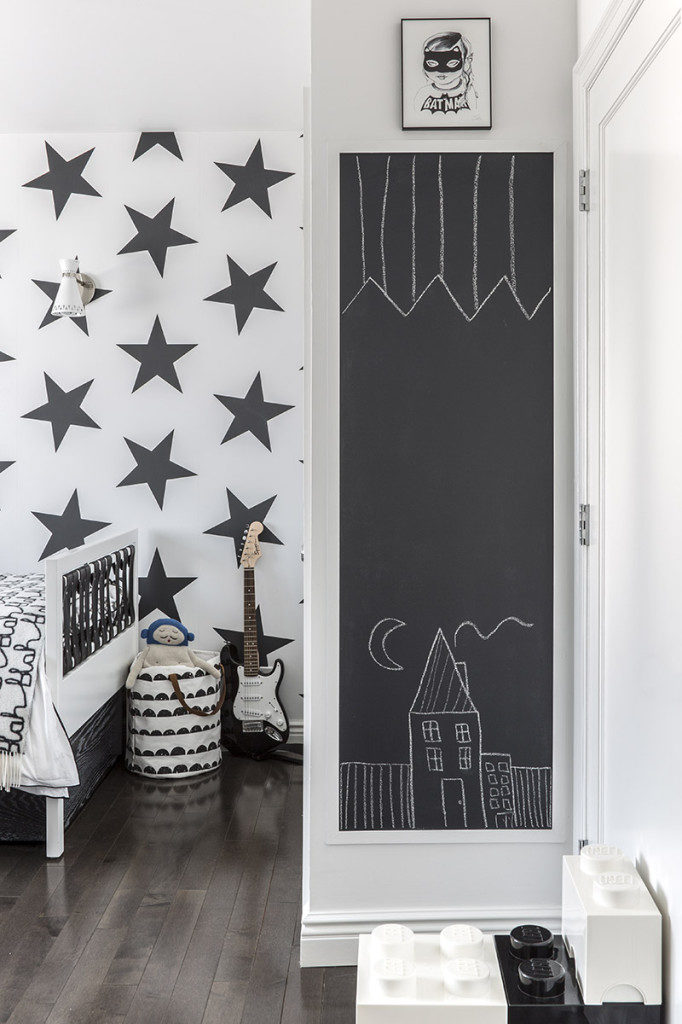 Source: projectnursery
Finally, we love the idea of using chalkboards in children's decorations and they are definitely a great option for black and white decorations in kids rooms. These boards are perfect for completing a black and white decoration and the best of it, it's that your kids will be able to create part of their decoration. Besides, when they grow up, they'll have a perfect tool for studying or scheduling their tasks.
We hope you liked these ideas for decorating kids rooms in black and white. There are many decorations you can choose, depending on your resources and the style you like. As you can see, black and white decorations can be fun and you can always combine them with other colours to create the cosiest and most beautiful spaces. You can see more ideas for black and white decorations for kids rooms here.