General
Fun vinyl kitchen decals for decorating your kitchen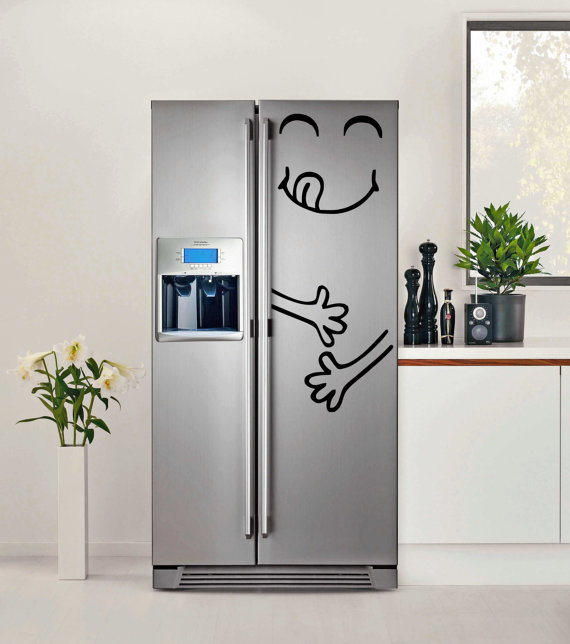 Vinyl decals are a type of sticks for decorating spaces that you can use on the walls, the floor, the ceiling or any other surface such as cupboards or even the fridge. You can find vinyl decals in many different sizes and colours and it won't be difficult to find one that fits your decoration because they're a trend nowadays. Today, we'll show you some ideas of fun vinyl kitchen decals for decorating your kitchen.
You can find decorative vinyl decals simpler and more complex, cheap or expensive, but you'll sure find the one that you like for your decoration. Moreover, they're not difficult to use. So, if you want to make a change in your home decoration and you don't want to spend a lot of money on renovating your walls or your furniture, vinyl decals can help you.
Vinyl kitchen decals are a wonderful alternative for decorating your kitchen. You'll provide your kitchen with a lot of personality and creativity, without spending a lot of money on repainting or redecorating. There are infinity of vinyl kitchen decals for decorating your kitchen, from the simplest to the funniest ones.
Kiss the cook
Source: Etsy
An original vinyl decal like this one will make your kitchen look amazing.
If you're thinking about decorating your kitchen with vinyl kitchen decals, you can choose among many different messages. Look for positive or fun ideas that make your feel comfortable in the kitchen. Everyone will love going into your kitchen and reading original and cheerful quotes!
A fun vinyl kitchen decal for your fridge, yummy!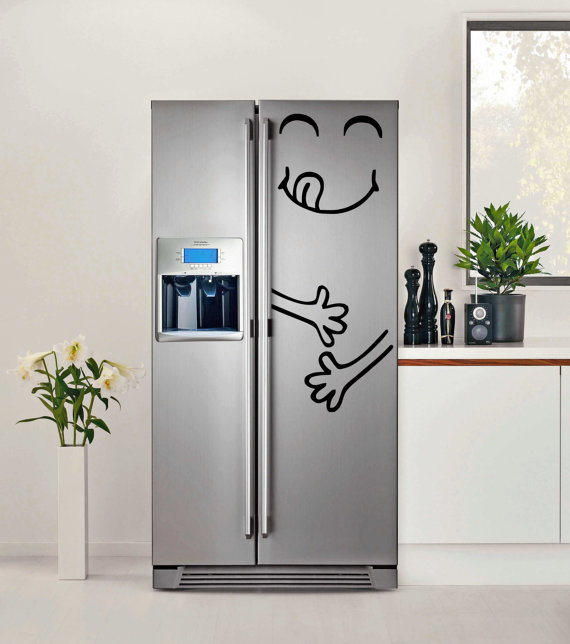 Source: Etsy
It's not necessary that you put your vinyl kitchen decals on the walls, you can also put them on electrical appliances. In this case, this vinyl decal for the fridge is just wonderful! It's simple, fun and it reminds us the yummy food inside.
Vinyl kitchen decals that help your organise your cupboards
Source: Chispum
Some vinyl kitchen decals are also ideal tools for organising your kitchen. If you're tired of telling your friends and family where everything is, when you're preparing a lunch or dinner together, these vinyl kitchen decals will be truly helpful. Without any doubt, this is an original alternative for decorating your kitchen.
An original way of hanging your clothes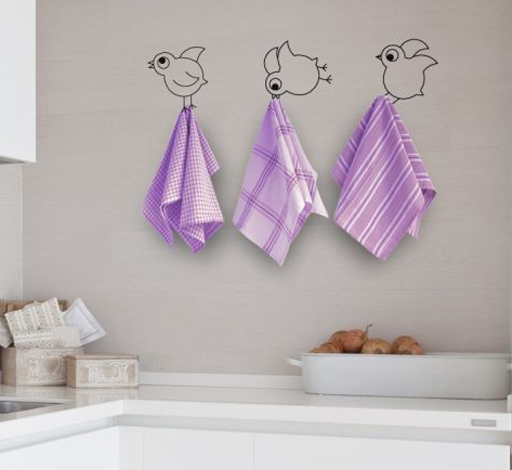 Source: ateliermujer
These cute birds won't get tired of hanging the clothes, because they're just small vinyl decals. I can't think of any more original way of hanging clothes in a kitchen. These decorative vinyl decals can definitely liven up your kitchen decoration.
A colourful touch for a white kitchen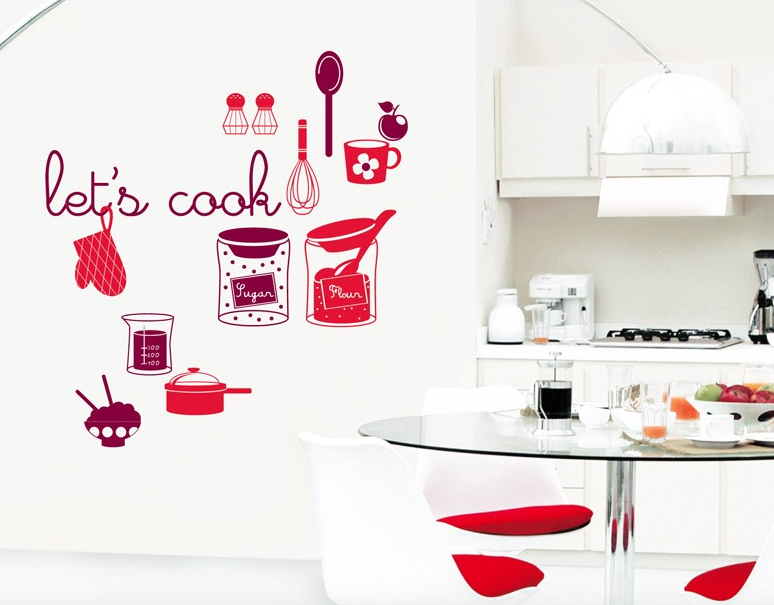 Source: Myvinilo
We couldn't miss the coloured vinyl decals. If you want to introduce some colourful details or combine the vinyl kitchen decals with your decoration, coloured vinyl decals can be the key!
As you can see in the picture, in a white kitchen, coloured vinyl decals provide a truly gorgeous touch to the decoration. Moreover, if you combine the colours with other elements such as the chairs, a jar or any other piece of furniture, the result will be amazing!
Decorating with vinyl decals is an incredible way of introducing some cheap but gorgeous changes into your home. This trend can be used in any space of your home and as you've seen in this post, vinyl kitchen decals are a superb idea! We hope you liked these ideas for decorating your kitchen! Leave your imagination fly and find the vinyl decals that better go with your decoration.