Recycle
Ideas for recycling wooden ladders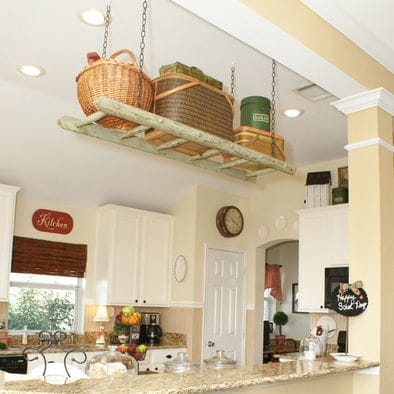 Today, we bring you a serie of ideas for recycling wooden ladders in order to create beautiful decorative elements that are also functional. If you have some old wooden ladders at home that you don't use anymore, don't throw them away. You can take advantage of them reusing them in other spaces of your home.
In a bedroom, a wooden ladder can be transformed into very different objects. One of them is a rustic shoerack. Like this, you'll introduce an original piece of furniture while you make the most of the furniture you already have. Moreover, wood can always provides some personality to your spaces.
You can use the steps to place the shoes that you use in your daily life, because they won't be covered. Like this, if you place there the shoes you use often, they won't be full of dust.

Photo: matome
Another great idea is using wooden ladders in the kitchen. For example, hanging it from the ceiling, like in the following picture. You can place some baskets and pots to create a beautiful and functional decoration. And what is the best, this decorative idea doesn't take much space and you'll have extra space for storage.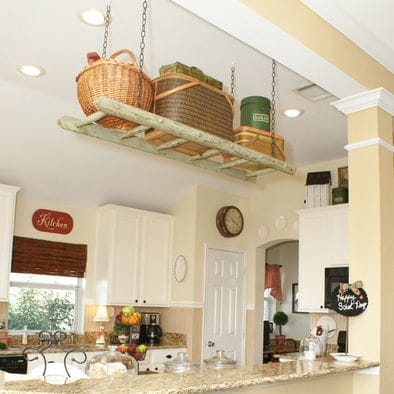 Photo: matome
You can also use it as a shelf in the kitchen, like in the following picture, or in any other space of your room. You can attach bigger shelves on every step of the ladder to make it more practical. As you can see, it provides a lot of personality to your decoration and you can combine it with a lot of colours and decorative styles.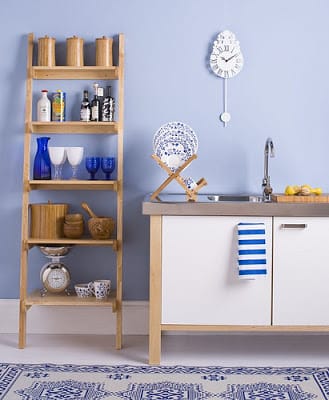 Photo: matome
Do you have a wooden ladder at home and you don't use it anymore? Recycling wooden ladders can be a great idea for achieving a cheap and original decoration for your house.
Via decoración 2.0