Today, we want to share with you a wonderful vintage design for your bathroom. If you're thinking about renovating this part of your home or giving it a different touch, you'll love this idea! Since it's a space you use daily, it should be a quiet and personal place where you feel at ease. This vintage idea for your bathroom will make it look cozy and beautiful!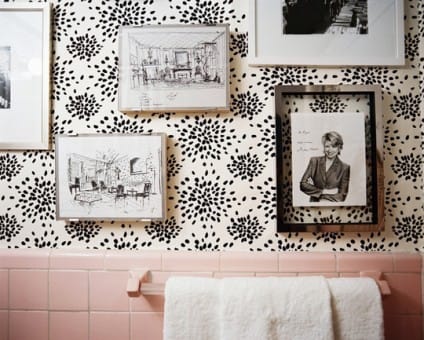 Picture: apartmenttherapy
There are a lot of things you can do to change the look of your bathroom. You can change the colors, use wallpaper to create a more personal space or change the tile's color or design… Everyone has his own tastes and even if you like vintage styles, there are very different ways to introduce it in your spaces.
On the one hand, beautiful wallpapers can take you back in time and create an amazing vintage atmosphere in your bathroom. There are a lot of designs and you can choose the one that goes better with your personality. The wallpaper you see in the picture is made from seeds and little black spots. Moreover, adding some portraits and drawings on the walls is also a superb idea. You can even make them yourself in order to create a unique handmade decoration.
On the other hand, black and white drawings or photographs also give an ideal vintage style. And if you make a good contrast with pale pink tiles, your bathroom will look gorgeous! Furthermore, you can decorate your old tiles by painting them and it will be very creative and quite cheap.
Via decoración 2.0