Decorating walls with DIY projects was never so easy. There are a lot of DIY ideas for decorating walls, so it's not complicated finding the one that better goes with your tastes and your style. You can find cheap and easy to do DIY ideas for decorating walls and we want to share some of them with you in this post.
A cork board with a world map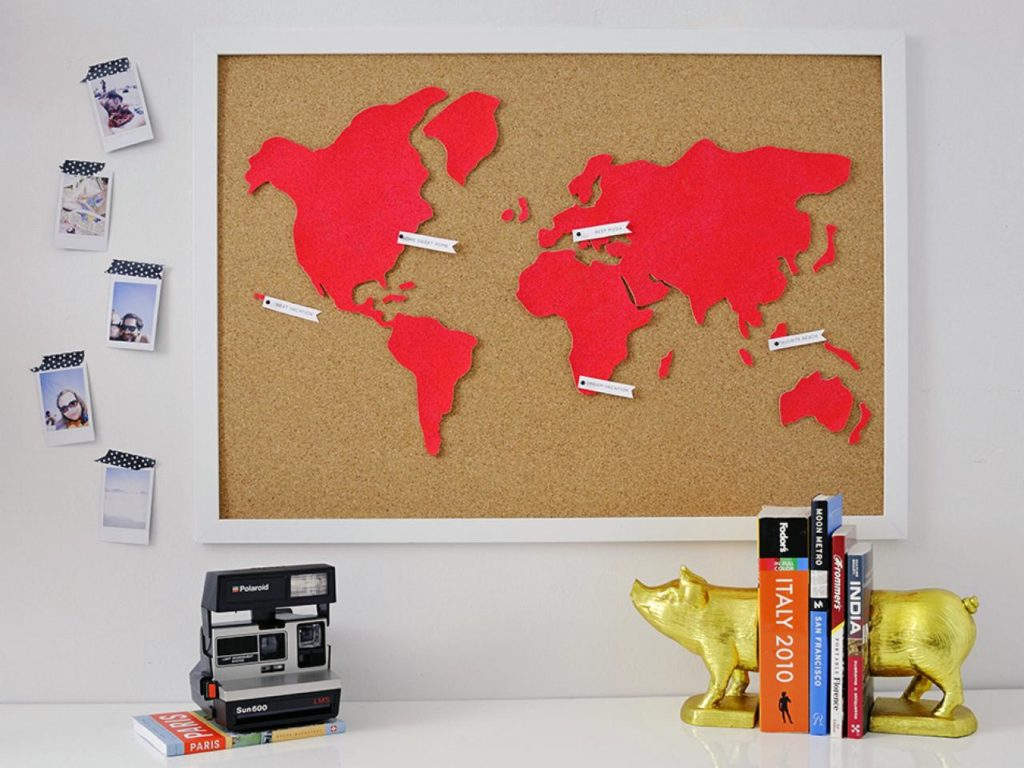 Source: HGTV
An original cork board where you can create your own world map and start pinning the places you've visited. You can choose a colour for the world map that combines with the rest of the decoration. You can opt for cheerful or neon tones for youthful bedrooms. Besides, you can take advantage of the rest of the cork board for pinning to do tasks, reminders, etc.
Another cork board, with a curious design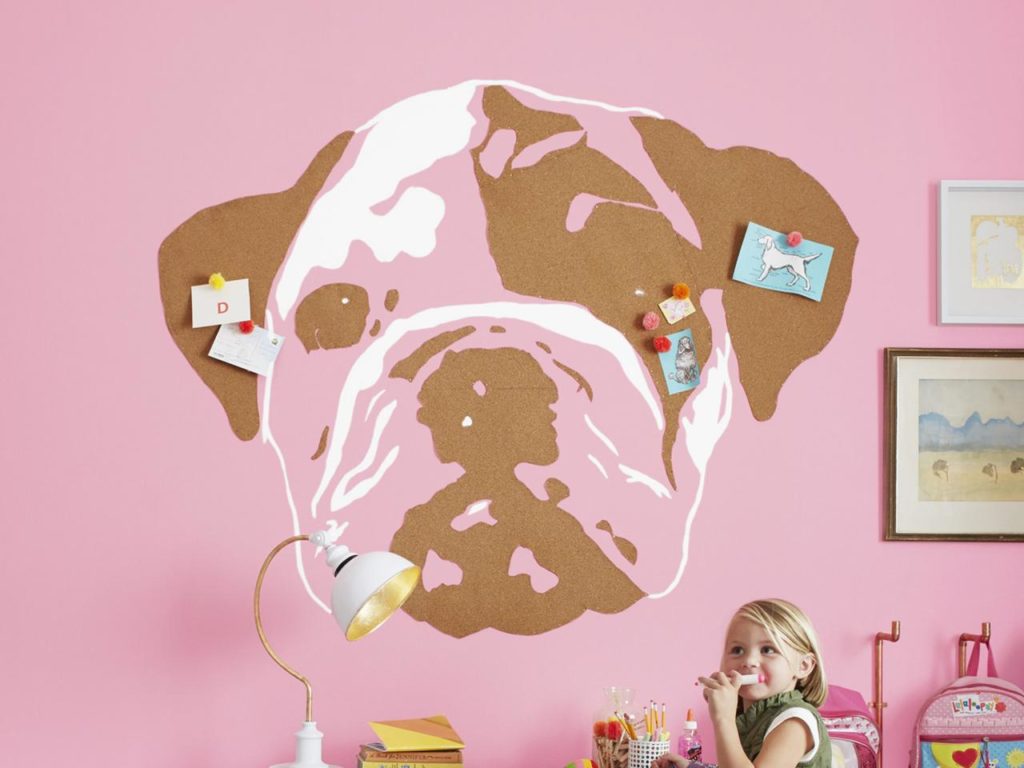 Source: HGTV
You can use cork boards in many different ways as you can see in the picture above. For example, they've opted for a bulldog shape and they've combined different colours and materials with cork board pieces. This is a great decorative option for kids bedrooms where they'll be able to pin their important notes, paintings or photos.
A collage with black and white photos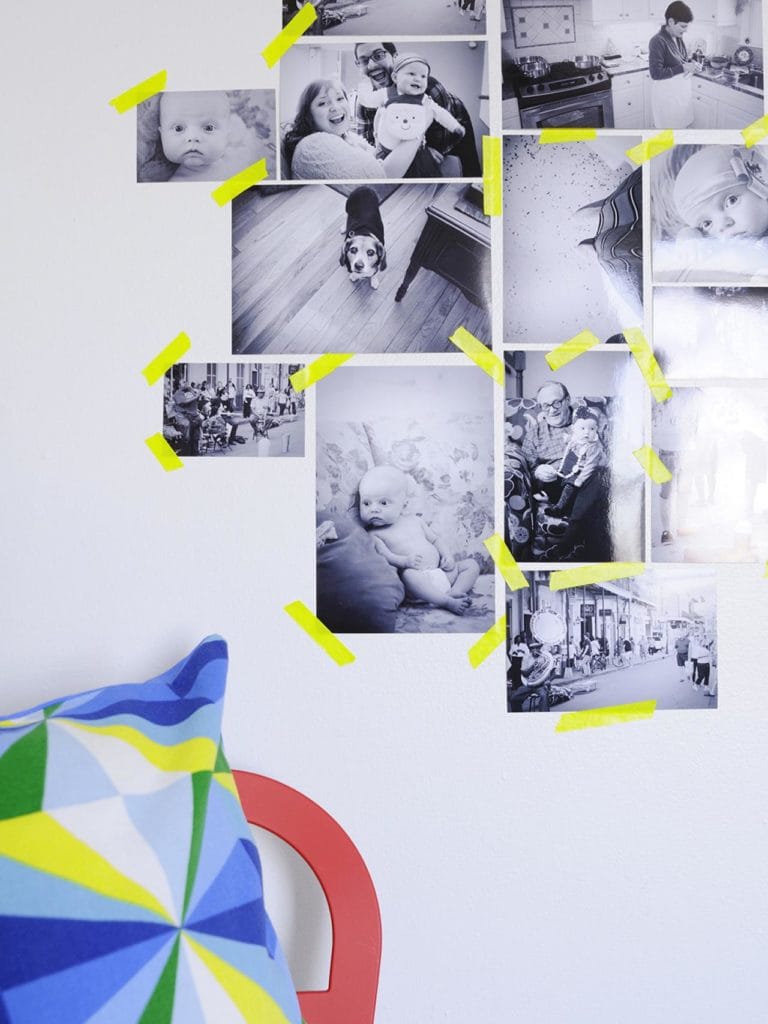 Source: HGTV
You can create a big collage with black and white photos for decorating your walls with a different touch. In the picture above, they are all put together with yellow tape and the contrast is fantastic. The bright yellow colour combines perfectly with the black and white pictures and it creates a truly modern effect.
Hanging and colourful flowerpots
Source: HGTV
These hanging and colourful flowerpots are a great way of living up your room with a different decoration. You can use recycled jars of marmalade, yogurts, etc. and paint them with different bright colours. You can hang them from the ceiling or from a shelf, creating a strong connexion among them. If you prefer, you can also opt for pastel tones for decorating the crystal jars, and the results will probably be great too.
Paper painted flowers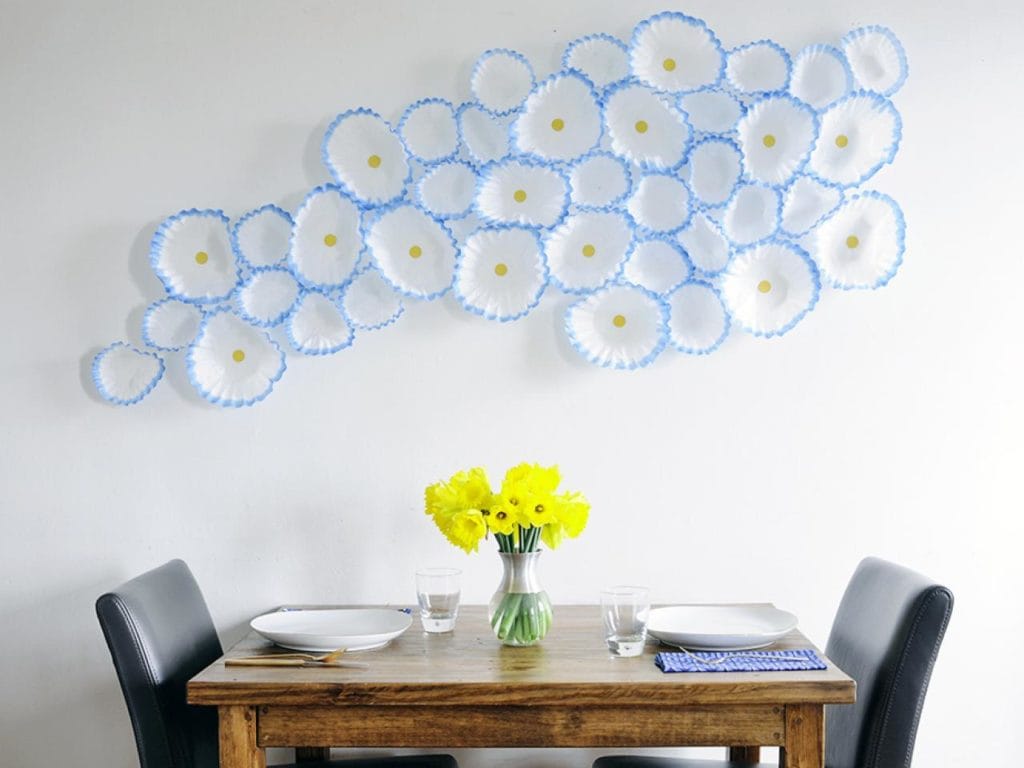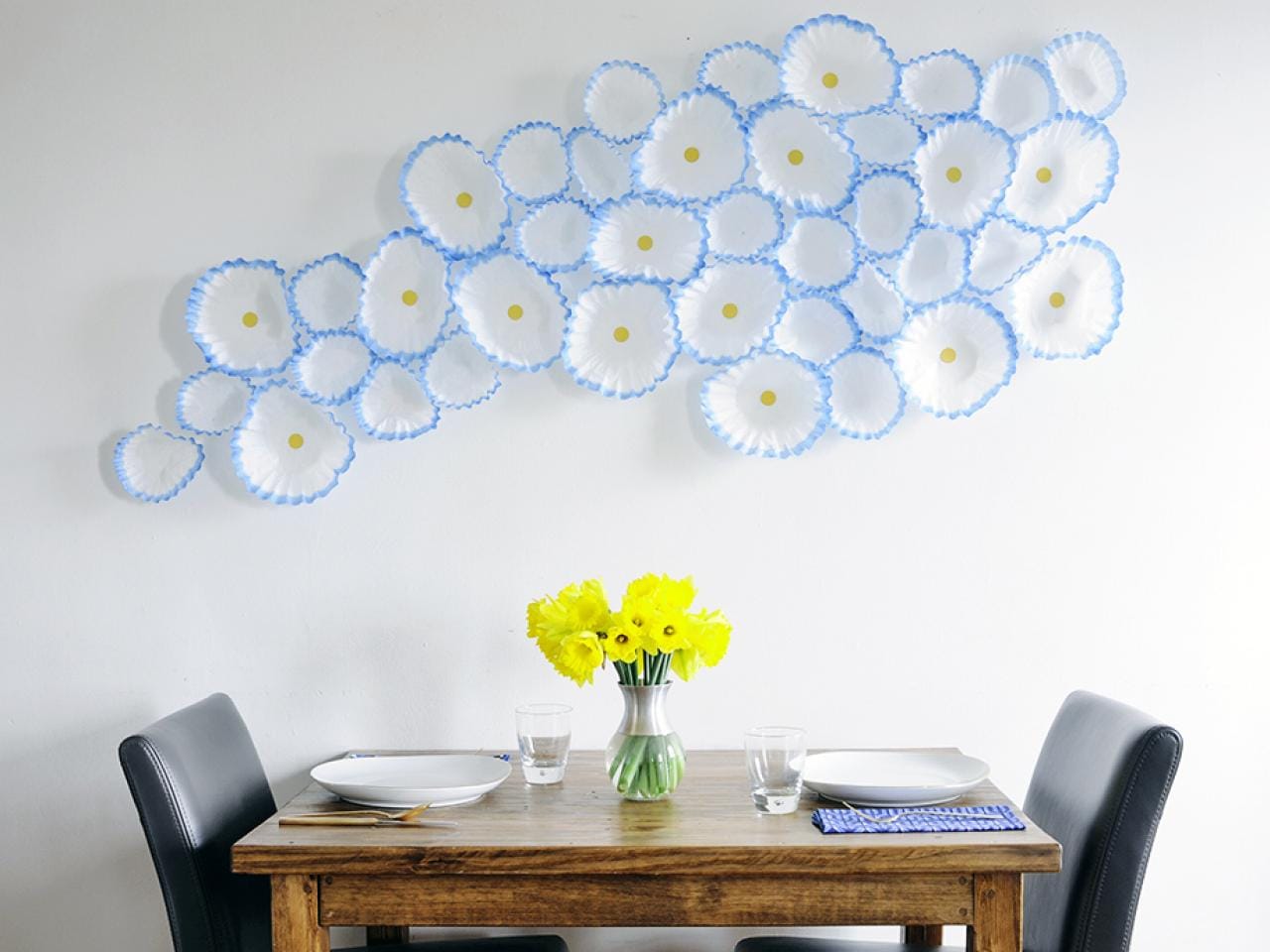 Source: HGTV
This paper painted flowers are truly original and cheerful. You can make them using paper cupcake moulds of different sizes. You can paint them and decorate them as you like in order to create a beautiful mural for your walls.
A natural touch for your wall decoration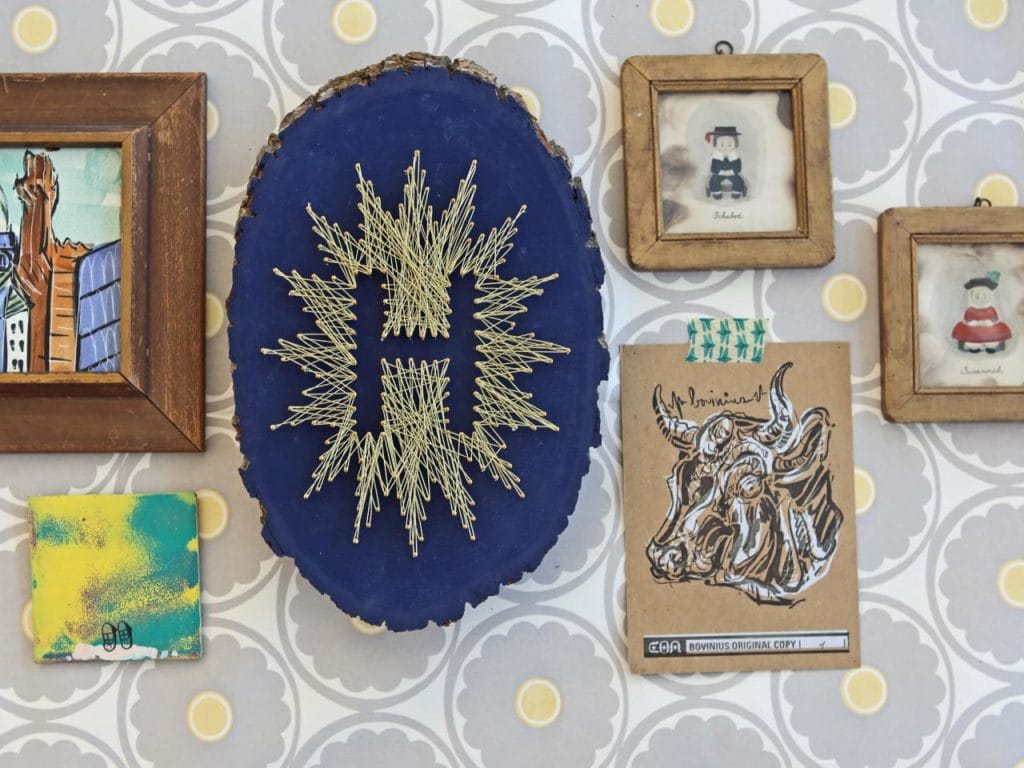 Source: HGTV
This handcraft is as easy as a painted slice from a big log. They've painted it with blue paint and they've created a monogram with rustic thread. Clean the log well before painting it. Look for a beautiful monogram you like and adapt it to the wood's slice size. Pin small nails leaving 0,50 cm between them and remove the mould when all the nails are in the right position. Then, use thread for joining all the nails together and creating the design you've chosen. Stretch the thread well for achieving good results. This is a truly decorative DIY idea for decorating walls.
A canvas painted with pink tones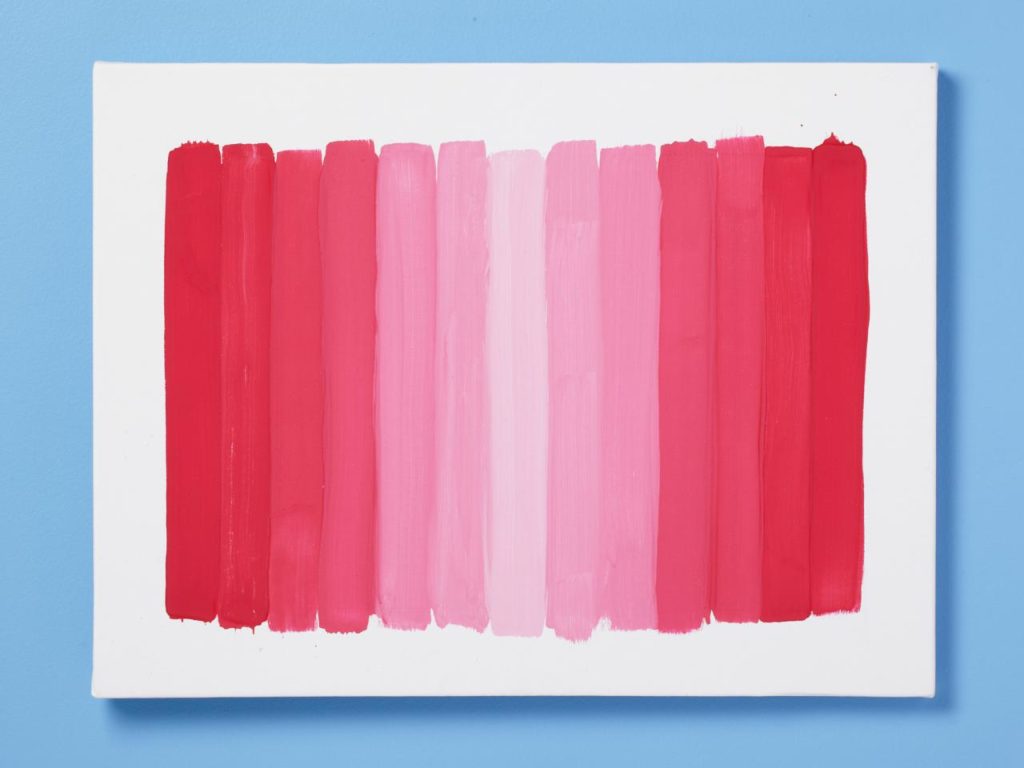 Source: HGTV
Easy to do, cheap and beautiful. This design can look good in any space of your house. With a canvas, a paint brush and some paints, you can achieve a simple and gorgeous painting.
Paper tape for decorating your walls
Source: HGTV
Paper tape is a great idea for creating beautiful geometrical designs on your walls. Like this, you can decorate your white walls without painting them again. The best part is that you can remove the design and change your decoration easily without damaging the walls.
Decorative dishes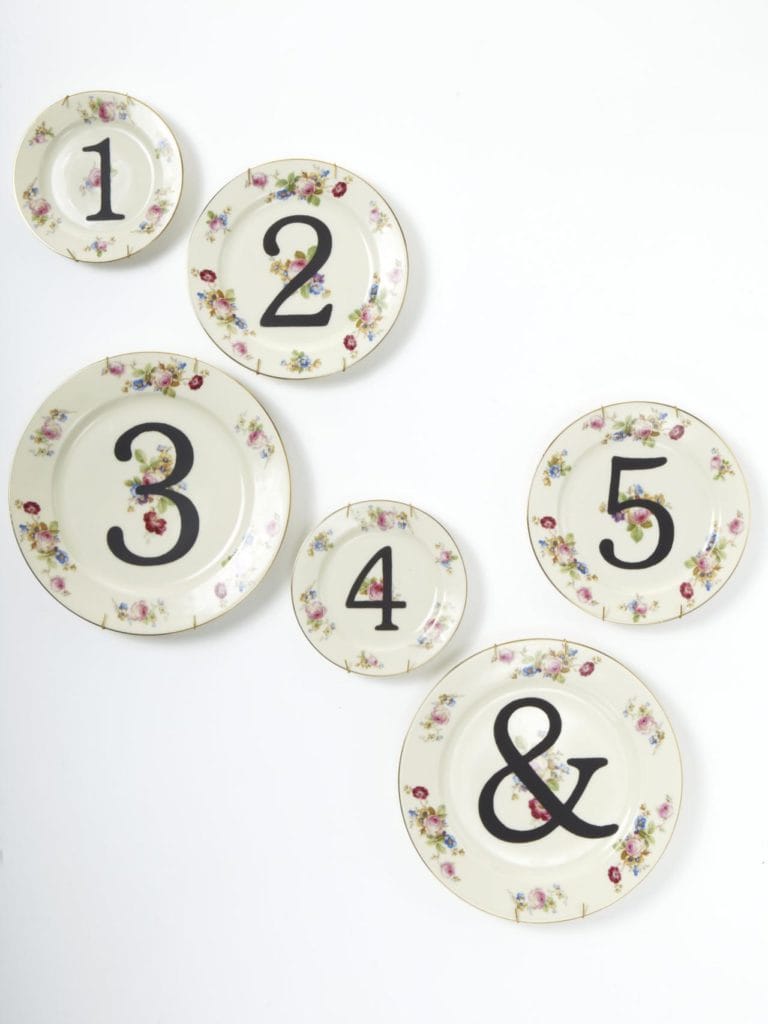 Source: HGTV
A classic decorating with dishes but in combination with modern ideas. You can find gorgeous designs for decorating your walls and add some monograms, letters or numbers for creating a more modern style.
An artwork made with wood strips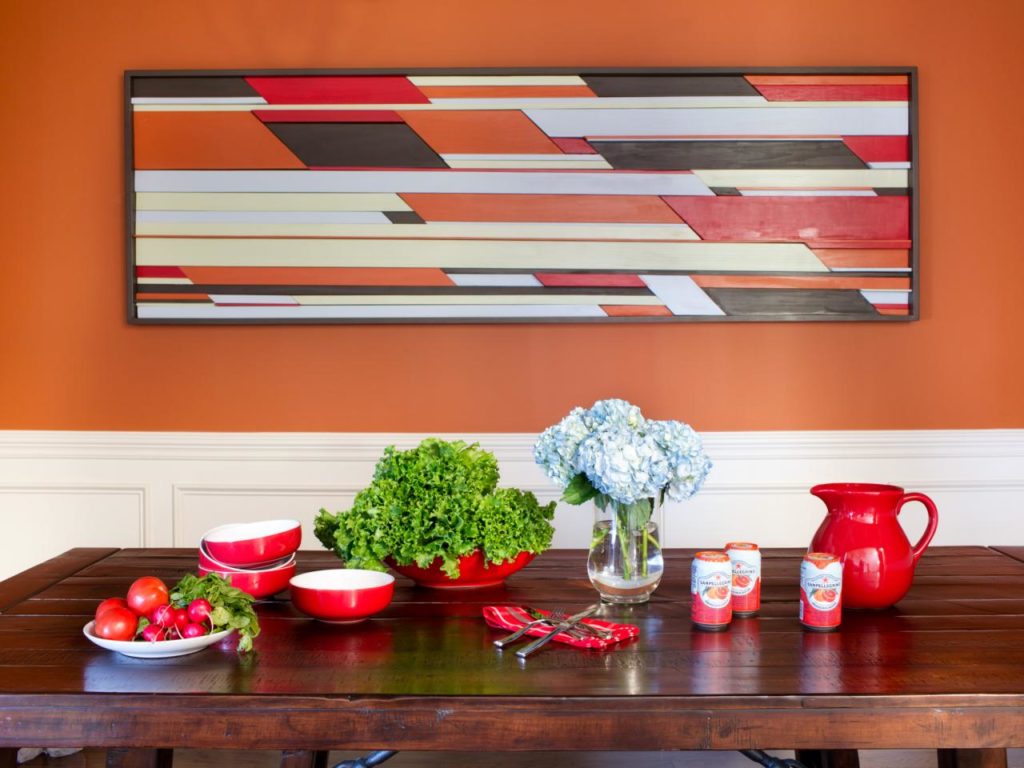 Source: HGTV
In this case, wood strips are the main elements, You can cut different wood strips of different shapes and paint them in different colours. Join all of them together for creating a gorgeous mural for decorating your walls. You must sand down well all the strips before painting them and you can even use different thicknesses for creating a 3D effect.