Homedecor
10 practical child pieces of furniture with fun designs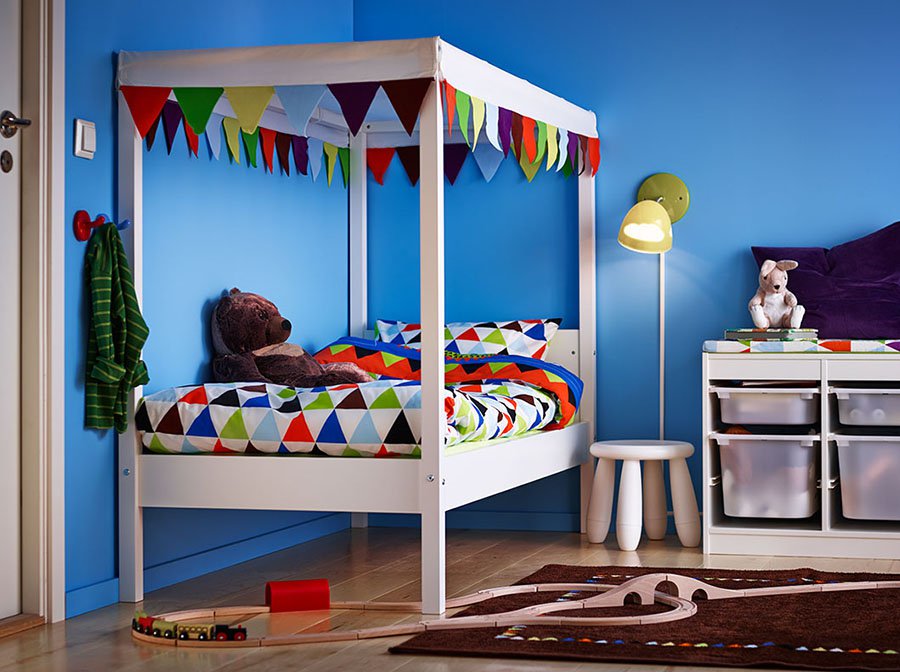 If you're thinking about renovating your child's bedroom and you want to give it an original touch that they love, there's no better idea than choosing child pieces of furniture with fun designs that are practical at the same time. The furniture you choose can transform the bedroom in a space where they can have fun, check out these ideas for achieving success.
Source: Maisons du Monde
Colours and fun are two ingredients that can be missing in a child's bedroom. Children don't need a lot for feeling comfortable in their bedroom. They just need a space where they can play and let their imagination fly. The key is choosing fun elements that are also functional and resistant.
You need pieces of furniture with a design that can resist the exciting day of children and that are functional, so that they're easy to adapt to different circumstances during the day. Today, we bring you some suggestions that meet these requirements. Here, you'll find 10 fun designs made with child pieces of furnitures. Original designs are a success in child's decorations.
A tent on the bed
Source: Ikea
Camping is a fun activity for doing with children, so, why don't do it in their own bedroom? This bed design from IKEA is called the Kura bed. The green tent with printed stars is the icing on the cake of this high bed design. All the space under the bed is perfect for creating a playing space, placing a desktop or cupboards for storing clothes, toys, etc.
A rustic maisonnette
Source: Car Möbel
This rustic style maisonnette is made by Car Möbel and you can open and close the doors. This white wood house is a big piece of furniture. It's a very fun design for kids, since they can decorate their own house in their bedroom. Moreover, it provides a lot of space for storing and also a gap for a truckle bed.
Black and white design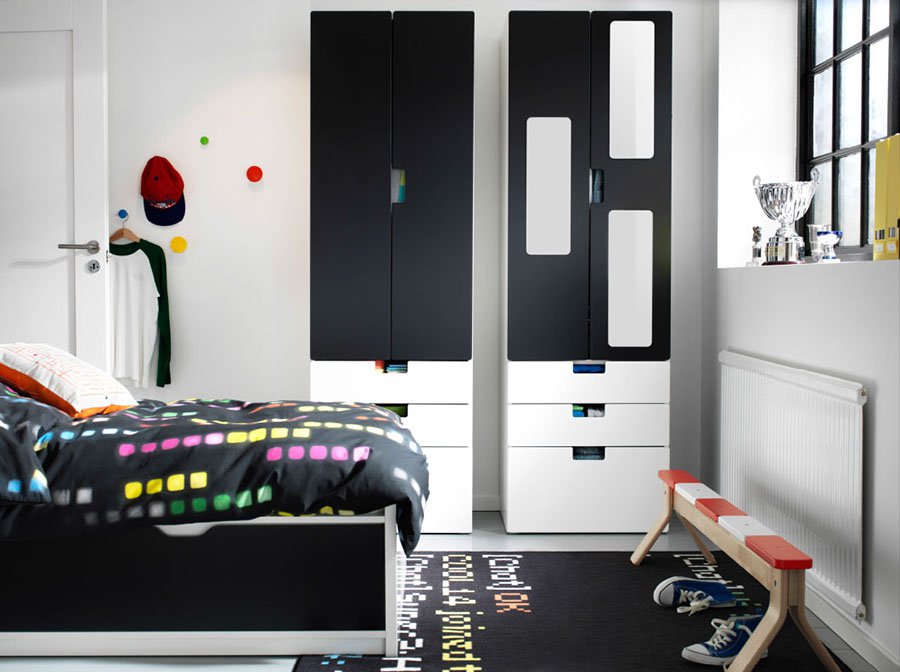 Source: Ikea
This wardrobe from Ikea is very decorative, this Stuva design looks great in youthful bedrooms with a black and white combination of colours. The best part of it is that it's also resistant and practical. You can create an adjustable composition and combine different elements of the serie. Moreover, you can choose among a wide range of colours.
A princess bed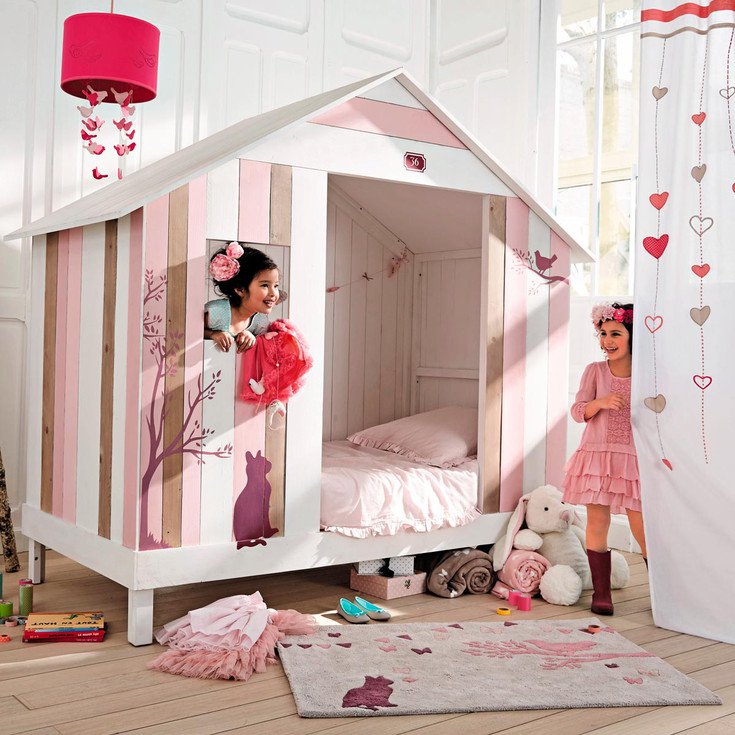 Source: Maisons du Monde
A lot of girls may love sleeping and playing in their own castle and having a princess bed. This cute design is a very girly and cosy design that they'll love. This beautiful and country style house in white and pink is ideal for a little girl's bedroom. You'll need a wide space for incorporating this house into your decoration, but if you have the chance, it will look great.
The adventurer's castle
Source: Car Möbel
This Medieval castle by Car Möbel is even surrounded by a battlement wood structure. Its white and blue design is ideal for decorating a little boy's bedroom. It has a ladder for going to bed, since it's high. Therefore, you have a lot of space behind the bed that you can use for storing toys or anything you like. The curtains will hide what you're keeping under the bed.
A bedroom decoration for rally lovers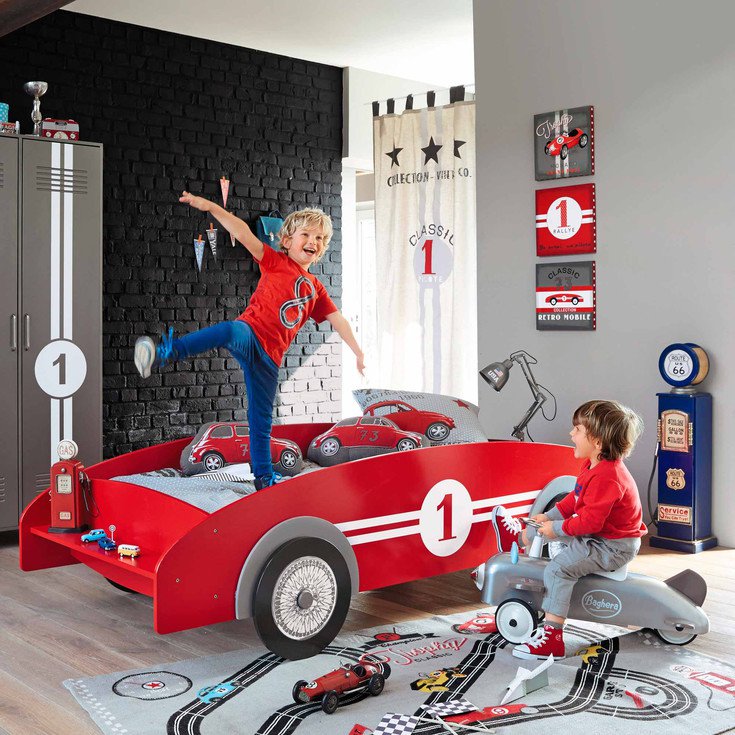 Source: Maisons du Monde
If your kids love rallies and caras, this decoration will be their favourite one. They'll go to sleep and will feel like in their own car's competition. You can introduce different motoring details into the decoration to complete the style.
A miniature living room
Source: Car Möbel
This realist decoration is ideal for making your kids feel like adults. This miniature elegant couch provides the bedroom with a vintage and special touch. This beige couch is by Car Möbel.
Playroom decoration
Source: Ikea
Kid's imagination has no limits. They're able to play with a carton box during hours and have fun. So, imagine how much fun they can fun if we give them some ideas. For example, the shop Beboelig from Ikea is a great choice. They won't stop playing.
In general, you can create very fun bedrooms with the decoration, choose cheerful colours, original decorative elements and incorporate some games as part of the decoration. The results can be wonderful! If you achieve an entertaining decoration, everything will be advantages…
Four-poster bed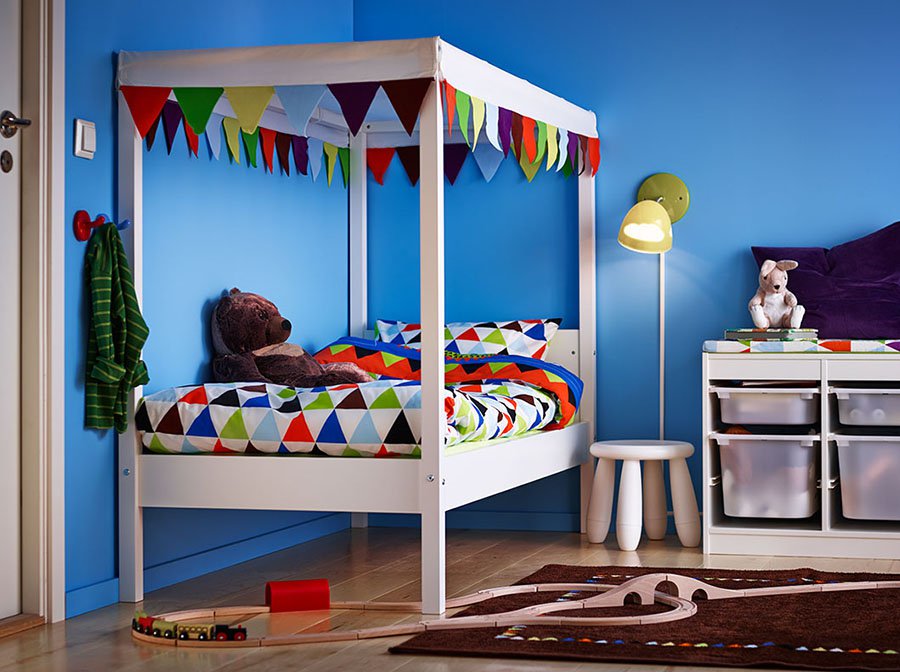 Source: Ikea
This design is simple but cheerful and will liven up any child's bedroom. Its canopy decorated with felt pennants is perfect for introducing colourful details to the decoration. This is the Ovre bed from Ikea's. This design won't take a lot of space and it looks great.
A puppet theatre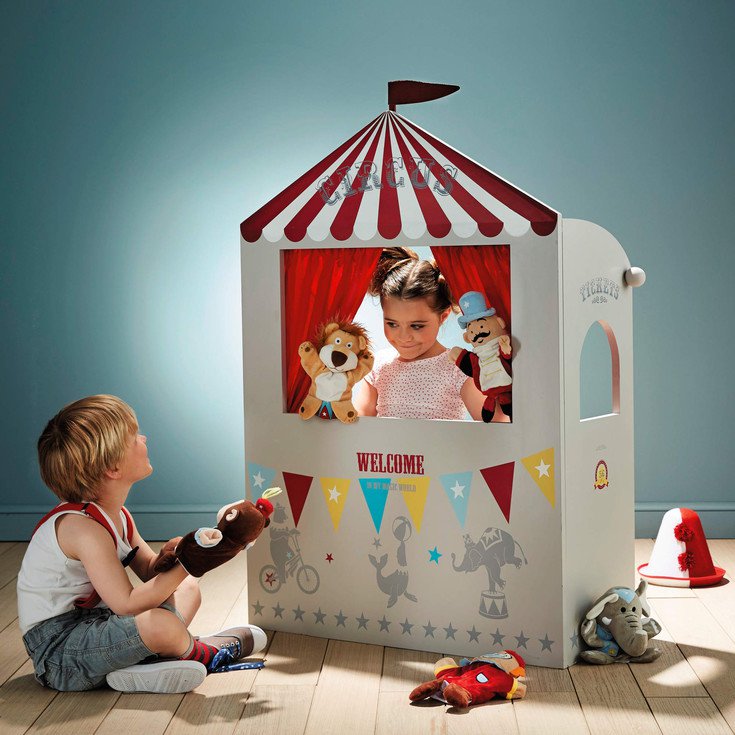 Source: Maisons du Monde
Theatre is one of the best entertaining activities we can do with children and a puppet's theatre is fantastic option. The wooden puppet's theatre in the picture is from Maisons du Monde.
Which idea do you like the most? Are you reading for transforming your children's bedroom in wonderful and fun spaces?
Via decoración 2.0