General
A 20 years project of a self sustainable island
Would you like to live in a self sustainable island? A life disconnected of the society? Check out the following construction in Canada…
Source: boredpanda
Living in a floating island is possible thanks to this home in Canada. Its builders and owners are very proud of have created a self sustainable island. This curious house is painted with cheerful colours, which give it a very summer like appearance.
Living in a self sustainable island?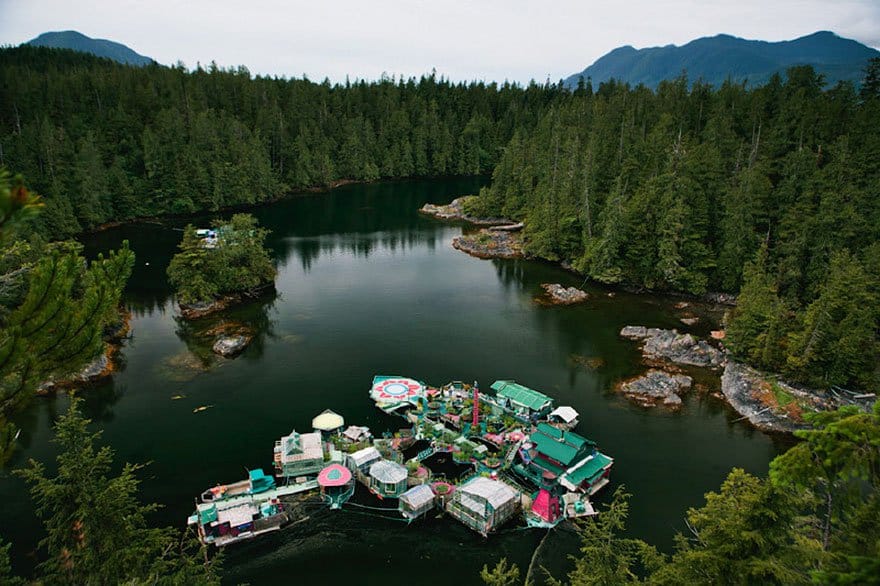 Source: .boredpanda
From this view, you can notice all the spaces interconnected thanks to a system of wood paths. This project was Wayne Adams (66 years old) and Catherine King's (59 years old) idea.
This floating house is located in Vancouver's coast (Canada) and was built by the couple in 1992. Their idea was and is living in their own environment and stock up on what the earth provides. For example, fishing is one of their choices for having a tasty meal.
"Liberty Cove": a house transformed into an island
Source: boredpanda
The wide space is ideal for growing vegetables and fruits, which next to fish, is a great solution for stocking up food. Since farming is not a good idea due to the predators next to the island. Apart from food, water is essential too and in this case, the couple has a beautiful fountain. The fountain is a cascade that supplies them water during summer, while during winter, they stock up on the rain.
If you're thinking about how they get the energy… They have several solar screens and power generators. Like that, they get all the energy necessary for the island.
How is it living in Liberty Cove?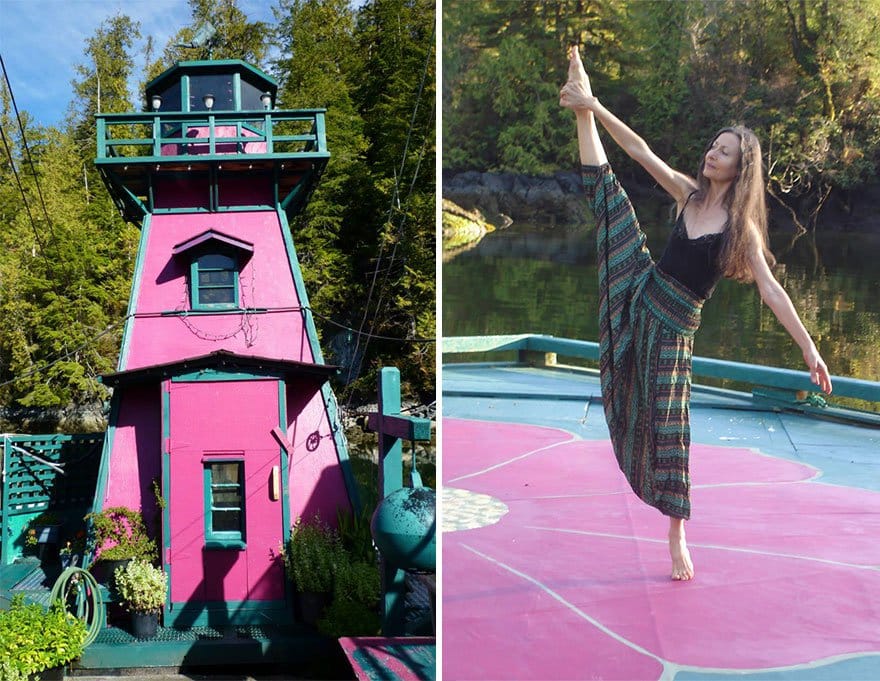 Source: .boredpanda
This witty house has 12 floating platforms. Life is quite in the island, but they also have some leisure spaces. For example, one of the platforms was transformed into a dancing space (since Catherine was a dancer).
Another platform is devoted to art with a superb gallery of gorgeous sculptures. In addition, inside of the house, the couple has a study where they can express their art.
Finally, some of the platforms are greenhouses where they have their vegetable gardens. And for their guests, they built a lovely lighthouse.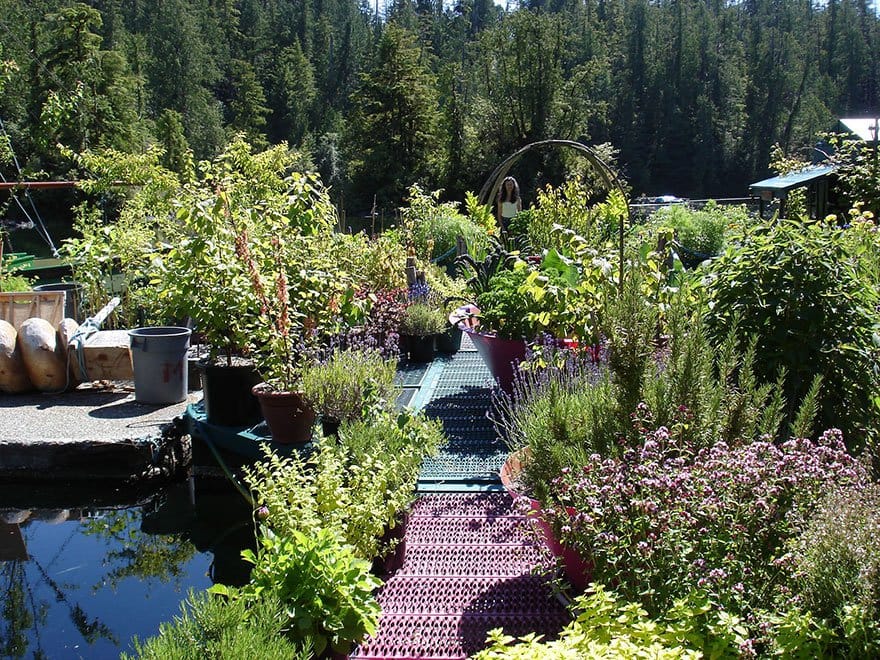 Source: .boredpanda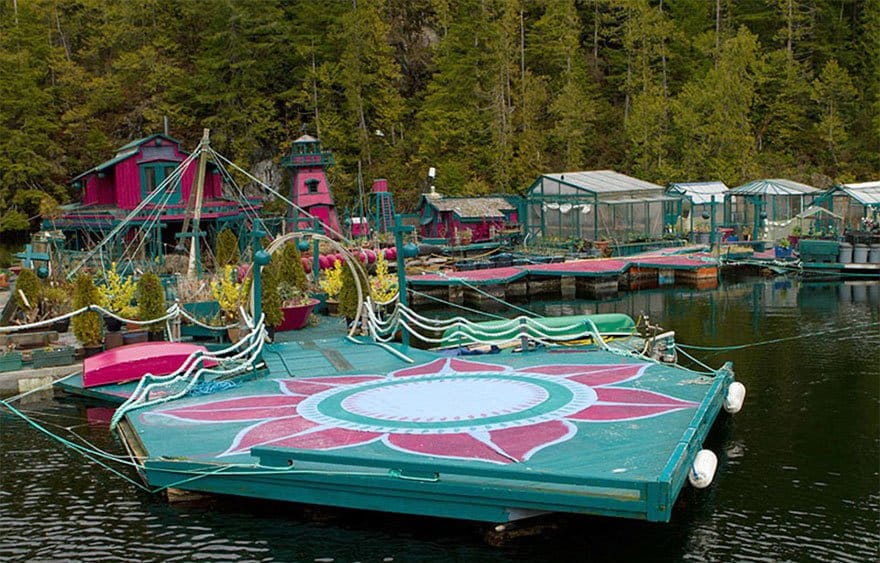 Source: .boredpanda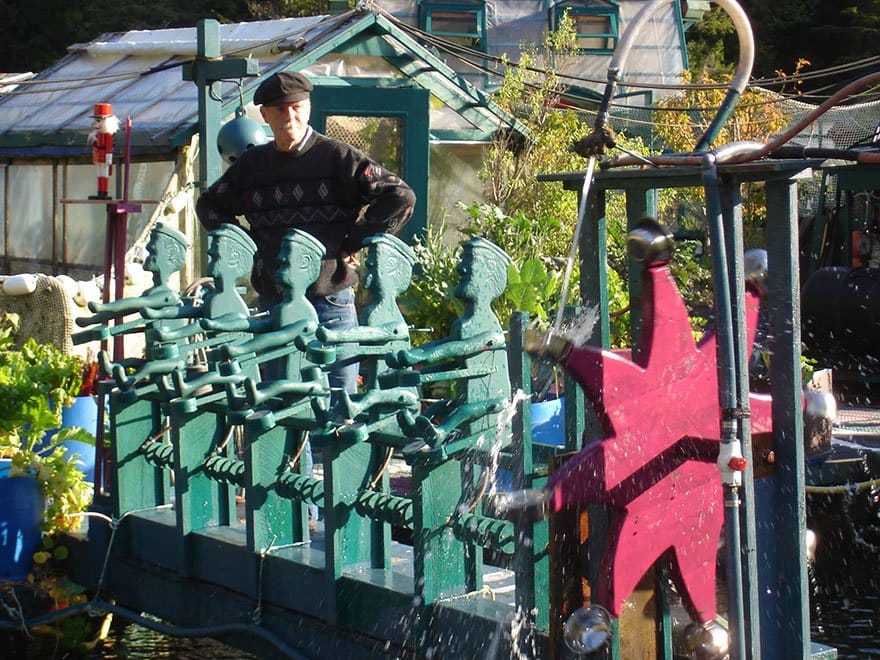 Source: .boredpanda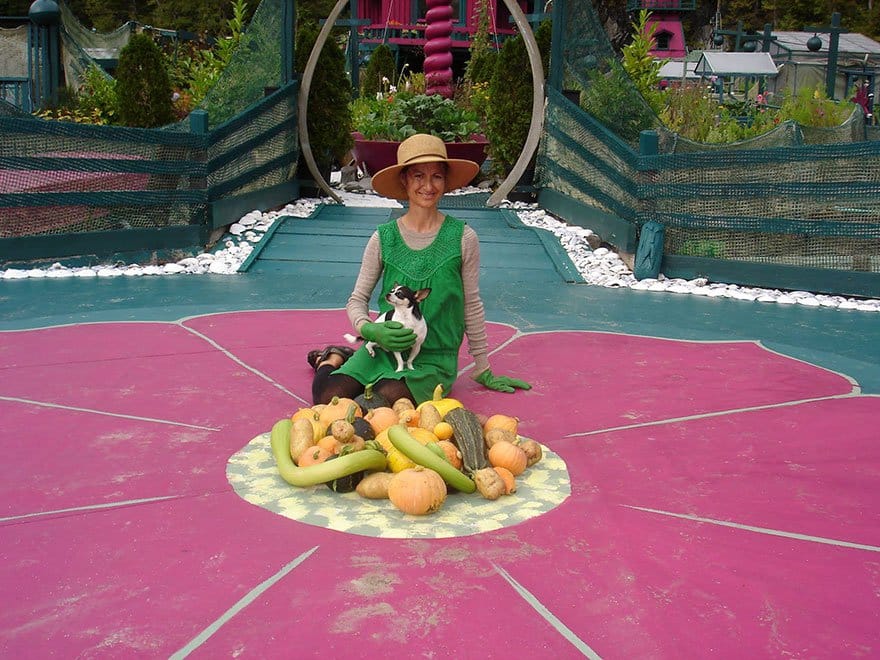 Source: boredpanda
Their five greenhouses provide them with wonderful fruits and vegetables for the whole year. This system has sustained itself for the last 20 years… It's just impressive!
Source: .boredpanda
Wayne Adams and Catherine King
Source: boredpanda
Adams is a great carver and sculptor and he sells his sculptures in wood and ivory. He has travelled around the world. Catherine Rey was a superb professional dancer and she also has other hobbies such as painting or music. 
Apart from all their trips and adventures, they have the pleasure of sharing this astonishing and unique creation. This self sustainable island is already 20 years old and it keeps a lot of moments lived by the couple. Anyone interested in visiting this house, can visit it. Actually, it's a great way of experiencing a sustainable lifestyle.
Liberty Cove is a fantastic example of how anyone can opt for a more sustainable lifestyle. This self sustainable island shows creativity, hardworking and respect for the Earth. What do you think? Don't you think it must be an interesting experience? Would you dare to live in a floating house for 20 years?
Via decoración 2.0