Coffee lovers, today is your lucky day! We are bringing here a DIY Project about how to decorate with mugs.
I personally love coffee, tea and infusions and also all the accessories around them especially beautiful mugs. If you are passionate about coffee, I want to tell you about how to decorate any place of your home with coffee mugs.
Decoration has no limits. Ideas come and we tend to decorate according to our taste and interests. That's why this is a unique opportunity to create a special place in your home. Something as simple and beautiful as coffee or tea mugs can turn into a focus of attention in a special place of your home if you know how to do it.
Some mugs are a work of art and indoor decoration requires some pieces that are personal or that reflect how we are. In that way, there's nothing better than decorating with mugs for a coffee lover.
How to do it
The most interesting thing about this craft is that it can be adapted to any style or trend because you can use different shapes and colors according to your tastes. Besides, it is really practical because they are handy.
Making this kind of space is really easy. You can choose the materials and size you prefer, but the best material is a wood panel. As not everybody has a lot of mugs, we can decrease the size of the panel so that it fits the number of mugs and the space we have.
What we need:
A lot of mugs
Wood panel
Hooks
Glue
Ruler
Pencil
We start by placing the wood panel on the floor or on a table. I personally prefer light colored wood for white walls, but if for example you have a grey wall, you can also paint the whole panel in white.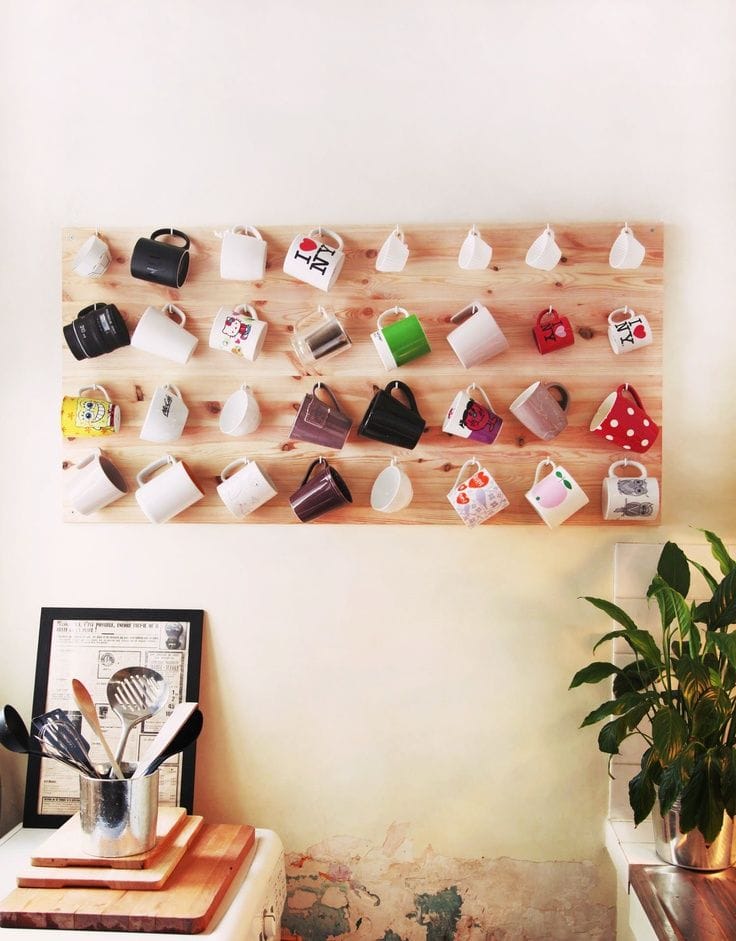 We have to  measure the panel to know the number of hooks we have to use. Once we have measured it, we have to try that all the hooks are place at the same distance among themselves. Then, it is time to place them. We can use both glue or a drill, what you prefer.
In case we have used glue, we have to let it dry for about two hours (the time is a bit relative because it has to do with the brand and the type of glue). Then we have to make some holes with a drill to place the panel on the wall.
The last step is putting the mugs on it. Play with the colors and the different designs. You can use your mugs to create your own work of art.
Another idea of the same type but completely different is placing your mugs in several horizontal wooden shelves. We can buy some basic shelves, paint them in our favorite color and place our mugs on them.
These two ideas can be used to decorate your kitchen but you can also use them in another place. Apart from being a very creative and visual DIY project, it is really practical and economic. The important thing here is trying to be creative to make your home look awesome without spending a lot of money. What would be the perfect idea for you to decorate with mugs?
Via: Decoración 2.0