The minions have been a success since they appeared in the film Despicable me. These cute characters are everywhere and they can be a very fun option for decorating a party for kids or even for adults. That's why, today, we want to share with you some fun DIY projects for decorating with minions.
A minion that keeps your garden tools

Source: homesthetics
You can use some old tyres for creating a big minion that keeps the main tools of your garden.
Evil minions transformed into cups
Source: Pinterest
If you prefer evil minions, you can try these original purple cups.
Cake decoration minion style
Source: cupcakediariesblog
Fondant is a trend in cake decorating and this round minion is a fun and beautiful decoration for a kids birthday cake.
Minion cupcakes for your birthday party
Source: cakecentral
If you'd rather want an army of minions instead of a big one, you can prepare minion cupcakes. Like this, you can choose your favourite minions and design them with fondant.
Yellow paper lanterns or minions?
Source: daledetalles
This idea is ideal for outdoor parties at night, you can incorporate some paper lanterns that look like minions for decorating and lighting the party.
Minion paper pompoms
Source: tipsdemadre
You can also create these big paper pompons. You can make them yellow and blue as in the picture above, or you can also make some purple ones, like evil minions.
Decorate the cups for your party with minions
Source: tipsdemadre
For decorating the cups, print the eyes, cut them and glue them. Then, you can paint the mouth and some hair with a black marker.
If you don't have yellow cups, you can also use transparent glasses, decorate them and fill them with yellow juice, like in the following picture.
Source: fabeveryday
A healthy party with fruits… Bananaaa!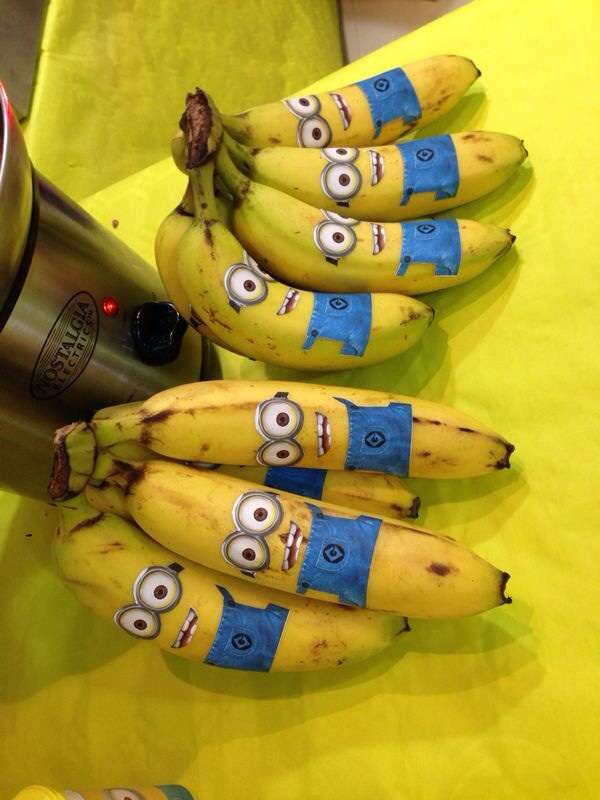 Source: catchmyparty
These natural decorative elements for your party are truly creative!
Minion pumpkins for your Halloween party
Source: todaysmama
These minion pumpkins can look great in a Halloween party.
Make a wreath that look like a minion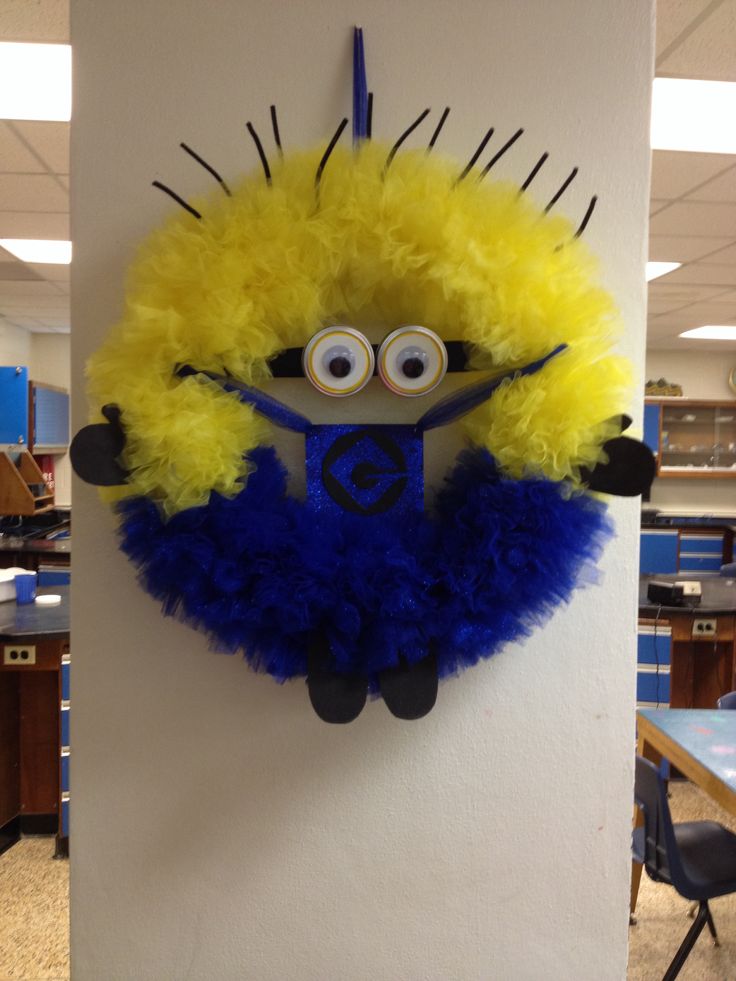 Source: Pinterest
Create minion jars for your kids
Source: homedit
You can paint this beautiful jars and write the initial of the owner on the dungarees. You'll kids will love keep their small objects in there and they're a cute decorative element.
We hope you liked these ideas for decorating with minions. You can share more DIY projects and more ideas with us in the comments or in our Facebook page.