Blue is the colours of the sky and the sea, and it offers infinity of decorative possibilities. Together with white, blue is a wonderful resource when choosing your home's facings and floorings. Decorating with blue and white tiles is a lovely combination that will inspire you with a lot of ideas.
Source: Original Style
Ceramic is one of the best materials for our walls and floors and the most innovative. Even if it's true that it's used since a lot of time ago, it is one of the materials that has advanced the most technologically and in terms of design.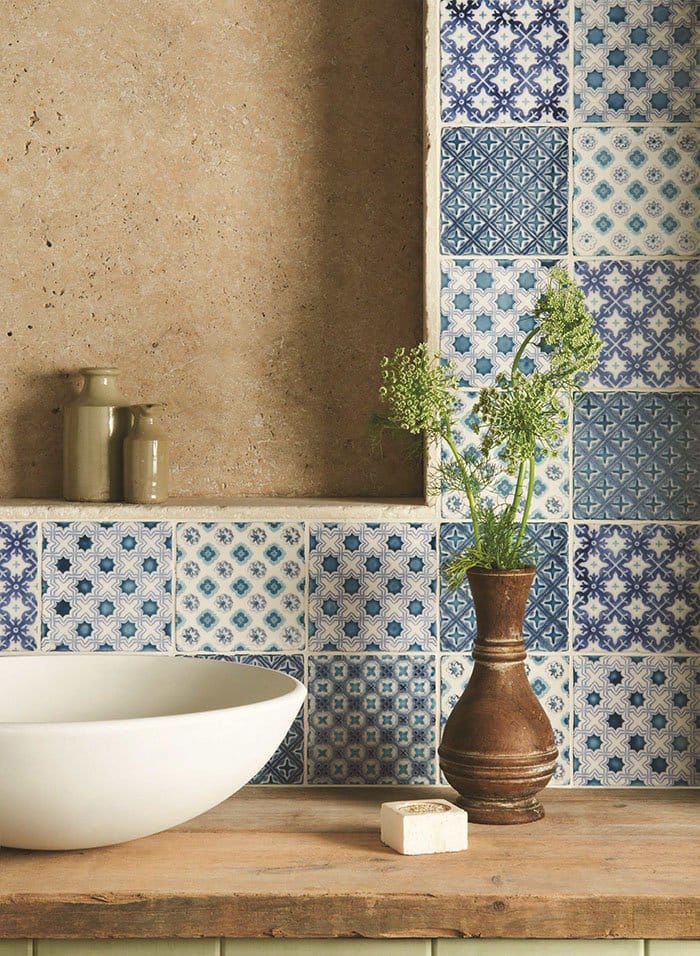 Source: The Winchester Tile Company
The thing is that ceramic, apart from modern and resistant, has another quality: the wide variety of styles, models, finishes and formats that can be developed with it and that make it ideal for any kind of spaces and decorative trends. You can find a perfect ceramic design for a vanguardist house as well as for a rustic one. If you have a more classic house, ceramic flooring is a good option. The versatility of ceramic tiles is impressive.
And for those who love blue tones, the Mediterranean style and sea environments, there's nothing like combining blue and white. For inspiring your imagination, today, we bring you some ideas for covering your surfaces with blue and white tiles. Keep reading to find out more!
Blue and white tiles: quite a trend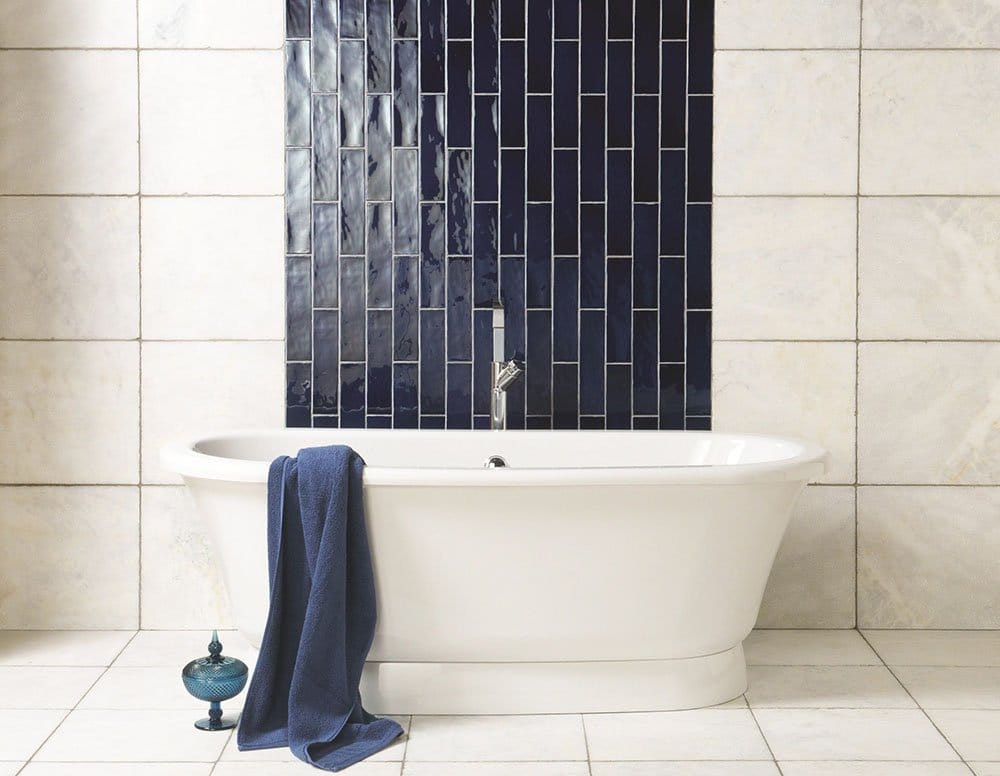 Source: The Winchester Tile Company
Even if the combination of these two colours in ceramic has been used for a long time, it hasn't gone out of fashion. It is still current and can fit in a lot of styles. We can say it's a timeless combination of colours and style. Blue and white tiles are a classic in decoration.
Source: Cevica
Currently, it's usual that more innovative brands develop models that use the combination blue and white as essential colours for decorating different spaces. For example, the small ceramic tiles that are so trendy for bathroom decorations. Mixing blue and white tiles reminds us to the sea and the sky, which provides a very modern and fresh atmosphere.
Decorative elements with a backstory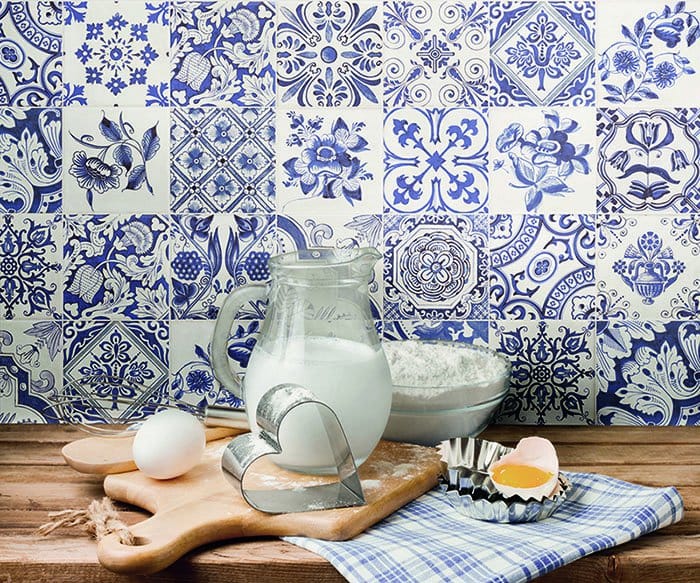 Source: Fabresa
Blue and white tiles have a long history behind them. They are inspired in the ceramic from Delft (Holland), from the 17th century. Back then, a school of ceramic was created in that city and it became extremely famous globally thanks to the quality of the products and the designs, since they were very delicate and different for that time. These tiles created in Delft by Italian artisans decorated kitchens and bathrooms of the most wealthy and majestic palaces of the 17th century. Their flower and geometrical designs were superb for decorating.
Source: Original Style
Throughout history, this ceramic has been very common in country houses, so it fits very well for decorating rustic and country style kitchens
Today, you'll find a lot of designs that evoque these historial ceramic tiles and they'll be great options for providing your home with a classic decorative style. However, try to use it moderately, since if you overload your spaces with this kind of tiles, it won't look comfortable. You can cover a specific zone for achieving a simpler result.
How to get a vintage touch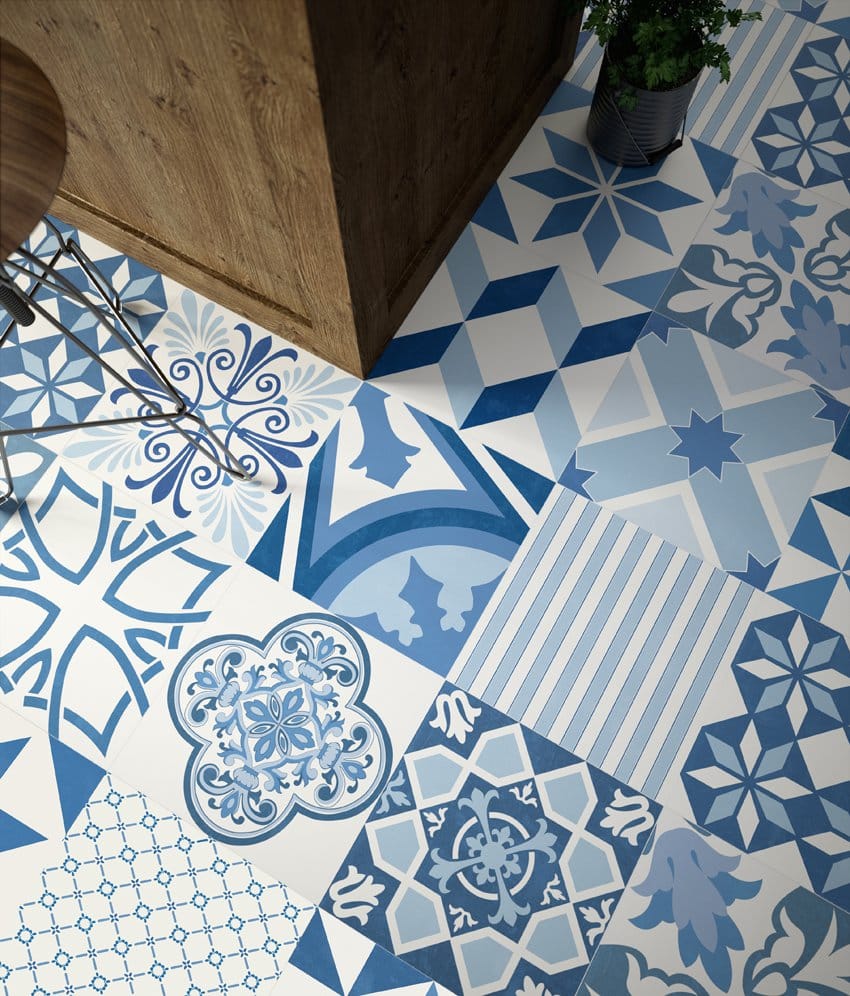 Source: Aparici
The hydraulic and geometrical tiles that decorated the floors some decades ago are coming back by the hand of different companies. The industry is reinterpreting the style in order to create new products. It's a type of ceramic ideal for creating a handmade style on your walls and floors.
Arabian inspiration for floors and walls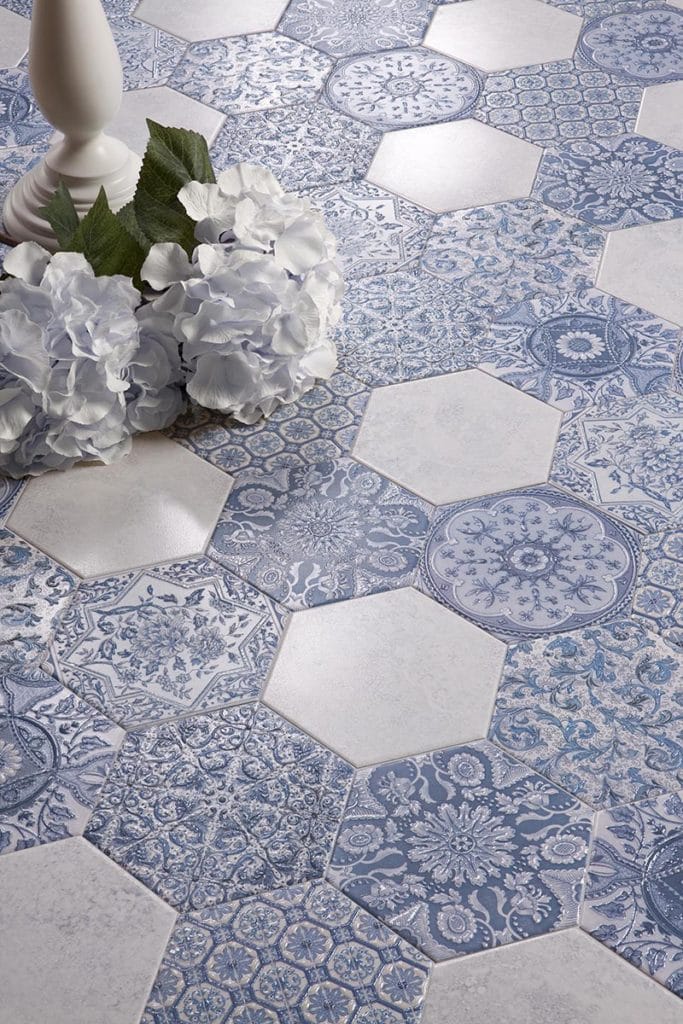 Source: Peronda
With the same balance between freshness and tradition, these hexagonal tiles add a geometrical touch to the design. With this kind of blue and white tiles, you can create lovely Arabian atmospheres. The result will be elegant spaces in blue and white that are different from the rest of the decoration and  provide a Mediterranean style.
Which model do you like the most? As you can see, there is infinity of option among you can choose!
Via decoración 2.0