General
How to save space in a small kitchen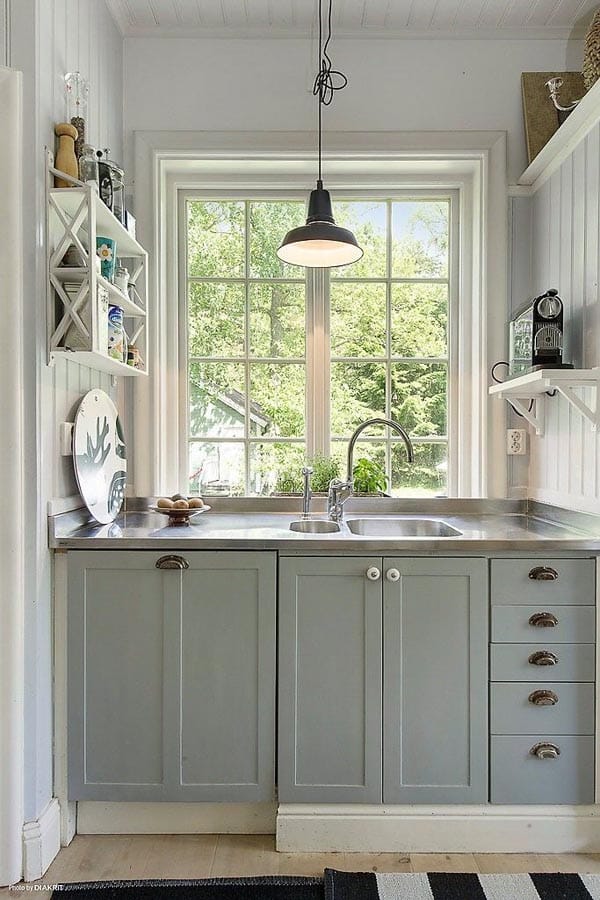 The kitchen is one of those rooms that are hard to keep tidy and it's easy that you feel you're lack of space due to the variety of kitchen tools and objects you accumulate in your kitchens. Moreover, if you're several persons living under the same roof, you'll need more storage space for food, pots and cutlery. Through the time, a medium or small kitchen can become smaller and smaller while we acquire new tools and ingredients for developing our culinary skills. But everything can be solved, and in the case of saving space in a small kitchen, there's infinity of possibilities. Check out the following tips for making the most of your small kitchen!
Open kitchen
Get rid of the wall that separates your kitchen and your living room or dinning room. Like this, you can create an open space that will liven up your kitchen. You won't get bored in your kitchen where more than one person wasn't able to cook at the same time. Your family and friends'll surround you while you prepare delicious meals. Forget about burned cakes while you're relaxing in the living room, because everyone will notice that there's something in the oven. Furthermore, with an open concept you can use a beautiful island where you can have breakfast. This kind of furniture is also perfect for dividing the space. Or you can even place a big dinning table that you can use when you hold a party as well as during your daily life.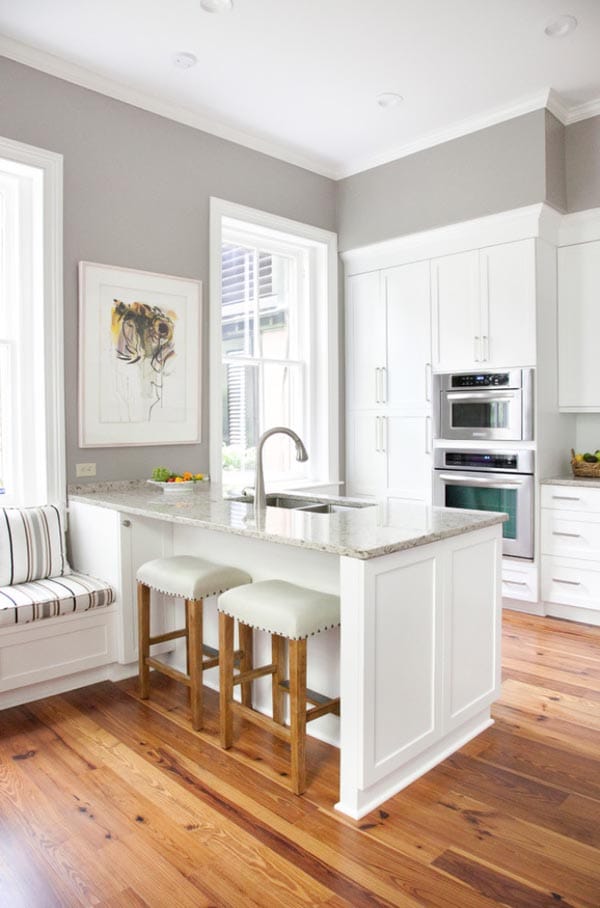 Design: Gay Lord Design llc
When you don't know where to place something… hang it!
You don't need to keep all your kitchen tools in a drawer, you can hang them on the wall or even the ceiling and they can be a gorgeous and practical element of your decoration. Like this, you'll have some free drawers and cupboards for storage and your kitchen will look more personal and comfortable since you'll have everything you use in your daily life at hand reach.
Design: Sabbe Design
Shelves in a small kitchen
If you don't have room for a cupboard, it doesn't mean you can't take advantage of the walls. Shelves are an ideal storage system for tools and objects you use often such as glasses or spices.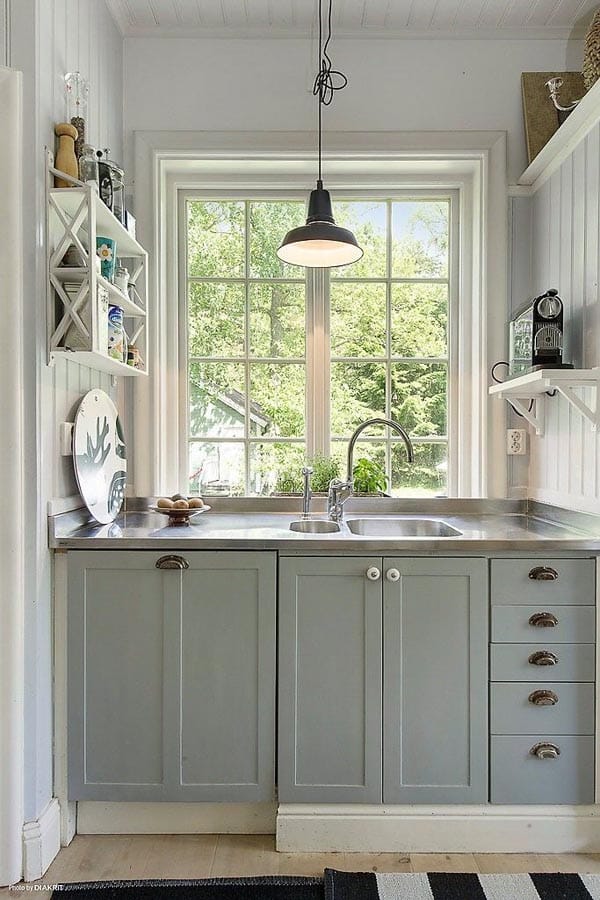 Design: Fastighetsbyran
Trolleys, pots and other storage systems
A trolley with several shelves is a great storage option for a small kitchen and you won't need to do any renovation. It can be really useful for keeping plastic bags, spices, fruits and vegetables and kitchen tools. In addition, filling pots of the same size can also be a decorative and functional option, as you can see in the picture below. This can transform an untidy small kitchen into a kitchen like those we can find in decoration magazines.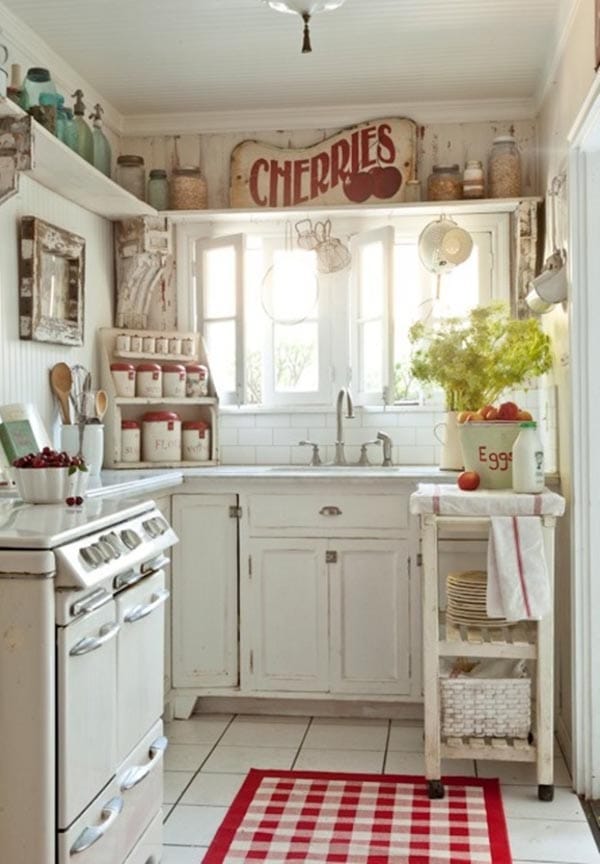 Source: Tumbleweed & Dandelion
Extendible table for your small kitchen
A table in the kitchen is essential so that you don't need to come and go to the dinning room or living room. That's why, if you don't have room for a table, you can always opt for an extendible table as the one in the picture. This is especially practical for having breakfast!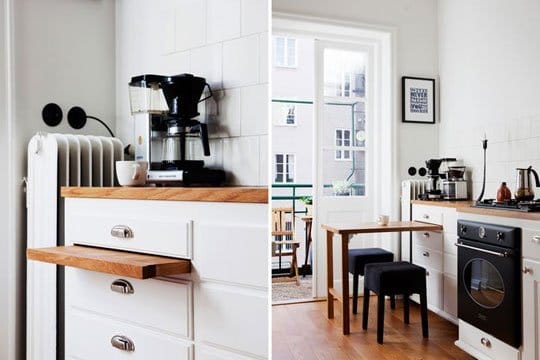 Design: Bo-laget
Cupboards at floor level
Old kitchen furniture doesn't make the most of the space, they always waste some space below and above. However, it isn't difficult to find cupboards with practical drawers at floor level that goes until the ceiling.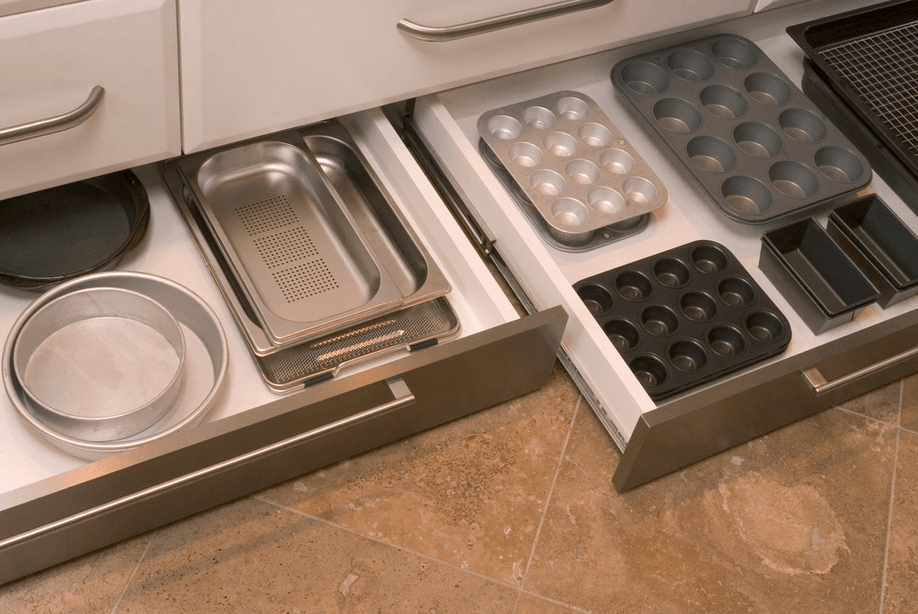 Design: Spaceplanner
A good store of food
A big and well-organized store of food is the best solution for a small kitchen. As you can see in the picture, it will allow you to organize everything you have in the kitchen. Like this, organizing your food, pots and kitchen tools won't be a puzzle anymore.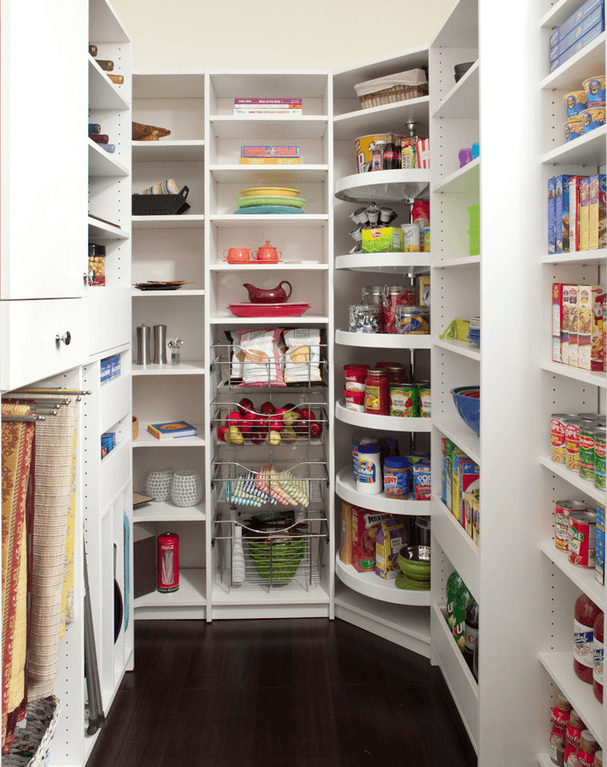 Design: Closetworksinc
We hope you liked these tips for saving space in a small kitchen at the same time you create a gorgeous decoration.
Via decoración 2.0