There are plenty of options to use mirrors in our interior decoration, that's why you may like these interesting suggestions to decorate with XL mirrors, since apart from decorating, mirrors are quite useful. XL mirrors fit perfectly with any decorating style, since there are a lot of designs; and the best feature is their size!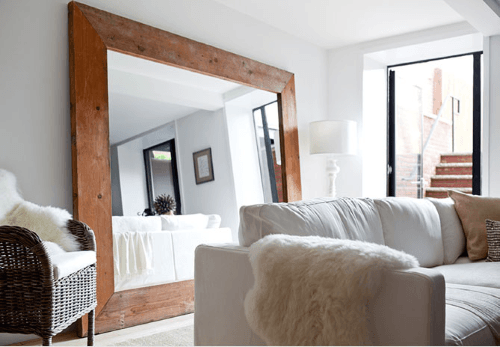 Source: Seventy nine ideas
Why decorating with XL mirrors
Mirrors are really easy to introduce in our decoration and they are really fetching since they reflect the light so that our spaces look brighter and bigger. These XL mirrors are ideal for small rooms too, since apart from the advantages already mentioned, they look really elegant.
How to decorate with XL mirrors
Source: Color outside the lines
Although their function is the same as any other mirror, in the case of XL mirrors, we should have into account that they take up a lot of space and therefore they should be the focus of our room's decoration. One of the main things we should think of is where we can place it. Wouldn't it be a good idea to place it on the ground? If we lean our XL mirror against the wall instead of hanging it, it will look gorgeous! However, if this could be an obstacle, we can always hang it.
There's a trick to remind when it's better to hang or to lean against the wall our XL mirror. If the height of the mirror is bigger than the width, we can lean it against the wall with all confidence. Anyway, it will always change with the decoration and the style we are looking for, since the mirrors should be functional as much as decorative.
Source: Color outside the lines
Where to place our XL mirrors
Since XL mirrors should be functional and decorative, we should calmly think about the place we want to use them. For example, they use to look great and very elegant in the living room; specially XL mirrors with wood frames. They can even look amazing in our bathroom if it's large.
It doesn't matter if it's because of your personal taste or a necessity, XL mirrors are a superb choice to decorate your spaces.
Via decoración 2.0