Use some of these small kitchen ideas for decorating your kitchen, what do you think? With some details, you can provide this space with a different aspect.
Source: awans
Decorating with stainless steel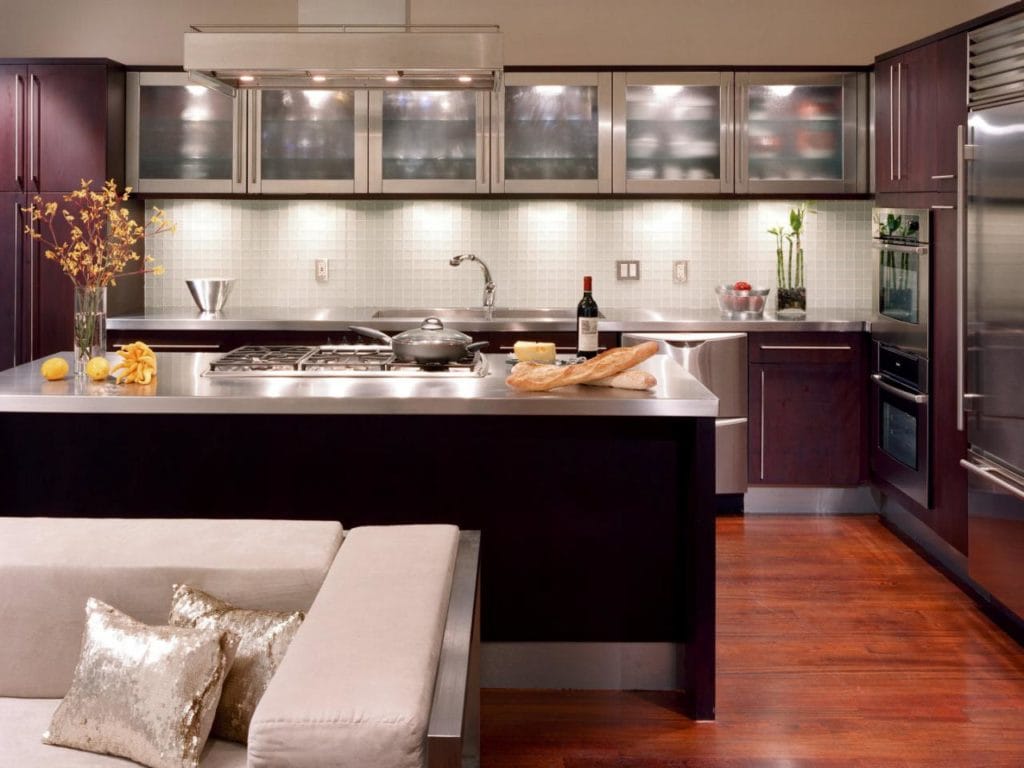 Source: hgtv
If you like this style, we invite you to try it. This material is easy to clean and very resistant through the time. Moreover, stainless steel is the best element for an industrial design. In this case, we suggest you a space where stainless steel is the main character. Its shine makes it look more spacious and clean.
Black and white kitchen
Source: hgtv
This cute small kitchen is really well decorated. Its decoration is mainly dark despite of the lack of spaciousness. The main colors are grey and black, but they create an ideal contrast with the white of the floor and the table.
Decorating with marble
Source: hgtv
This hard material is very resistant, although you should be careful if you drop too much liquid on its surface because it's quite porous. There are some products you can use for creating a layer in order to protect the stone for a longer period of time. In this case, they've used marble in the countertops and the walls; all in the same color.
A well-organized kitchen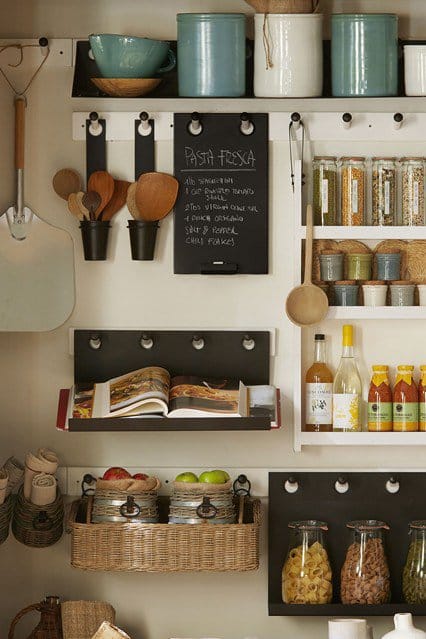 Source: houseandgarden
Order will solve a lot of problems in a small kitchen, so try to keep everything in its place. Here, we show you an example you can take into account when you organize your kitchen. As you can see, a good idea is using pots for keeping dry products, cookies or other food that we need to have at hand reach. Moreover, using some hooks for hanging ladles, pots and slotted spoon are also a good choice. For fruit and vegetables, you can use some baskets. And something we love about this example is the blackboard for noting down the things we have to buy. These are some examples, but there is infinity of ideas for organizing your kitchen really well.
Black narrow kitchen
Source: houseandgarden
This narrow and long space looks gorgeous with black and white tones. While the backgrounds are black, the rest of the furniture is white. This contrast is perfect for this kind of kitchens. Crystal shelves look like they don't take any space and the grey touches are very elegant.
White narrow kitchen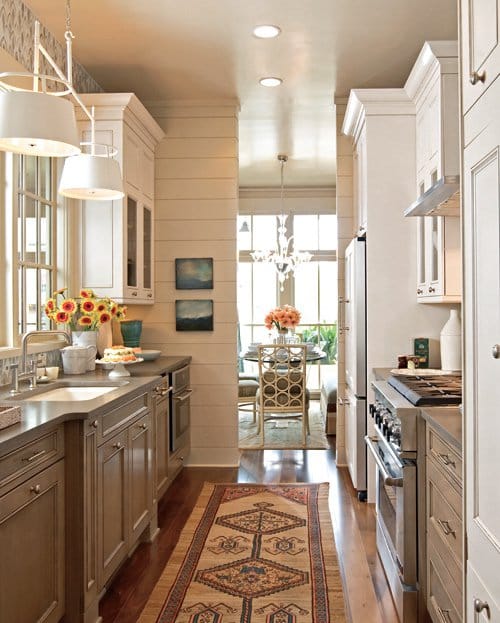 Source: houseandgarden
In this case, the main character is the white color. Together with crystal and natural light, this trick is great for decorating this kind of kitchens. Light colors help taking advantage of the space; these colors make the light spread all around the room and make a narrow kitchen look bigger.
Well-illuminated kitchen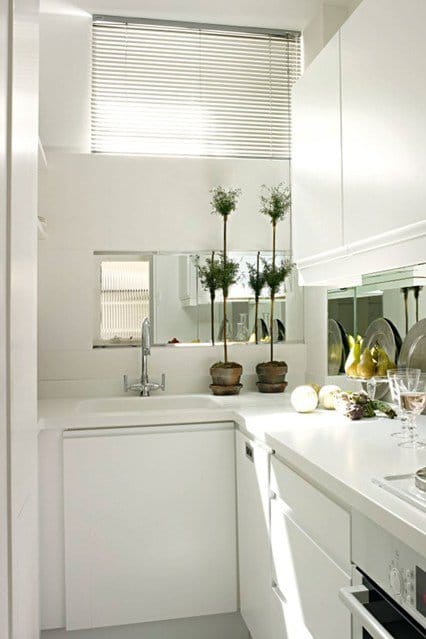 Source: traditionalhome
Take advantage of natural light. This is one of the best things you can do. In this example, the window is tall and it has jalousies. Even if the kitchen is small, this great lighting makes it look confortable and well-illuminated. You can even opt for using white in every element of the kitchen. In the example, they've decorated everything with white colors: the countertops, the furniture, the walls, etc.
A kitchen in a wardrobe?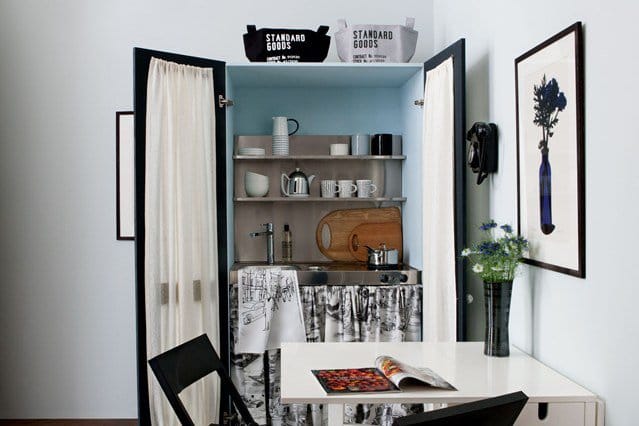 Source: traditionalhome
Take advantage of that wardrobe you don't use anymore. You can introduce your kitchen inside of it. It's a fun and original way of organizing your kitchen. You'll give a second chance to an old piece of furniture and you'll make the most of the space you have. Like this, you can close the doors and the rest of the space will look bigger.
You can paint the wardrobe and improve it the way you want. Add some shelves and hooks for organizing. Remove the back of the wardrobe and it will be completely functional for placing the kitchen sink and the burners.
Decorating a small kitchen can be a challenge sometimes, but if you look for some tips and information, you'll be able to create the perfect space for you! We hope you liked these small kitchen ideas and that they've been of inspiration for you. You can share more ideas and tips with us in the comments or in the social networks.
Via decoración 2.0