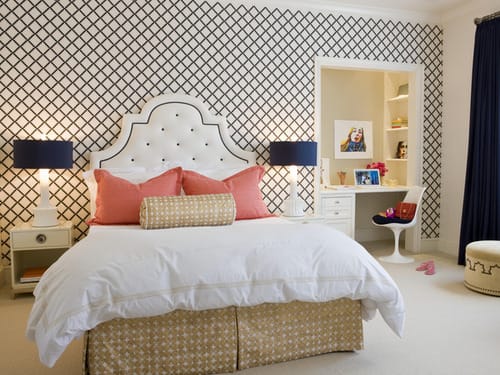 Today, the main character will be the bedroom. It's one of the best spaces of our home and it gives place to a lot of decorations. These rooms should always be spaces where you feel at ease and relaxed since it's kind of a temple of rest. There are infinity of styles, designs, colors and complements to decorate your bedroom the way you prefer. In this post, we bring you some examples of charming bedroom decorations that may be truly useful if you're looking for decorating yours.
In the first place, we'd like to show you this unusual design whose layout provides the room with a very balanced atmosphere. The huge bed works as well as a sofa, which gives a unique touch to the décor. Storage seems quite limited but it's ideal for a feminine design and the decorative accessories are gorgeous. There are no shelves to organize your books, photos and other personal objects, but the wall's decoration is fantastic!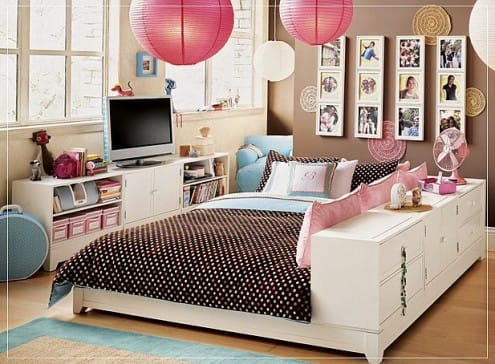 In the second place, we'd like to share with you this minimalist design. The combination of these two basic colors, black and white, creates a sense of spaciousness. Moreover, the pink accessories, strategically placed around the room, give an elegant and girly touch to the décor. The bed is spacious and tall and the wardrobe is truly large, ideal if you need a lot of space for storage. Moreover, sliding doors are a great idea and the carpet is lovely.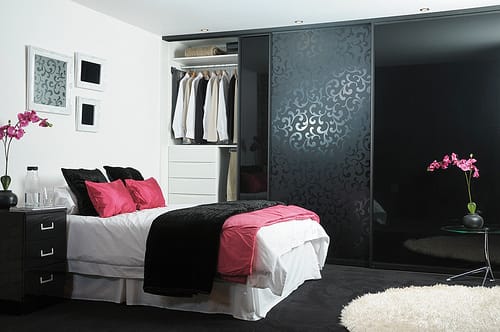 In the third place, this room is especially attractive because of its original wall. This bedroom is the only one of these examples that includes a workspace and it looks great. The little office perfectly matches the bedroom and its design is really cozy. One of the best elements of this bedroom is the headboard, which along with the lamps gives an elegant touch to the space. Moreover, the combination of colors couldn't be better and the geometrical printed wall make the bedroom look gorgeous. This decoration is ideal if you're looking for a comfortable, minimalist and romantic style.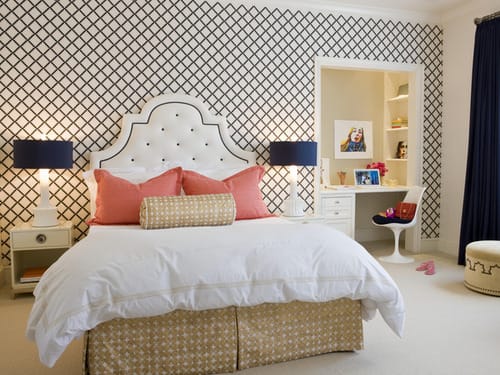 Which one did you like the most? We hope these few ideas inspire you to create your own bedroom decoration!
Via decoración 2.0