Homedecor
30 small apartments with witty decorations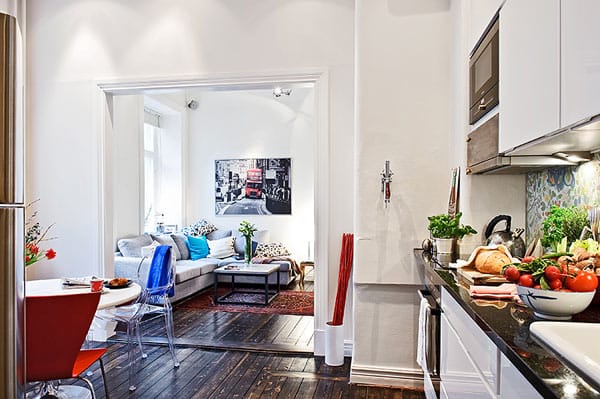 Take advantage of every space of your home thanks to some witty and low-cost ideas. Small apartments have a lot to offer, don't you think?
There are a lot of ideas for decorating small apartments. Today, we want to share with you this inspiring collection of 30 small apartments with witty decorations. We hope you like them!
Lighting and white
Take advantage of natural light with big windows (for example, in this case the high ceiling is perfect for this). Moreover, if you opt for using white tones in your walls and floor, it will look even more spacious.
Loft beds
You can opt for a loft bed. As you can see, sofa and bed are in the same place and the room doesn't look crammed.
Place the bed in a wardrobe
Between two doors, you can see the bed built-in in a wardrobe's gap you don't use. This witty idea will save you much space, don't you think?
Small apartment in Barcelona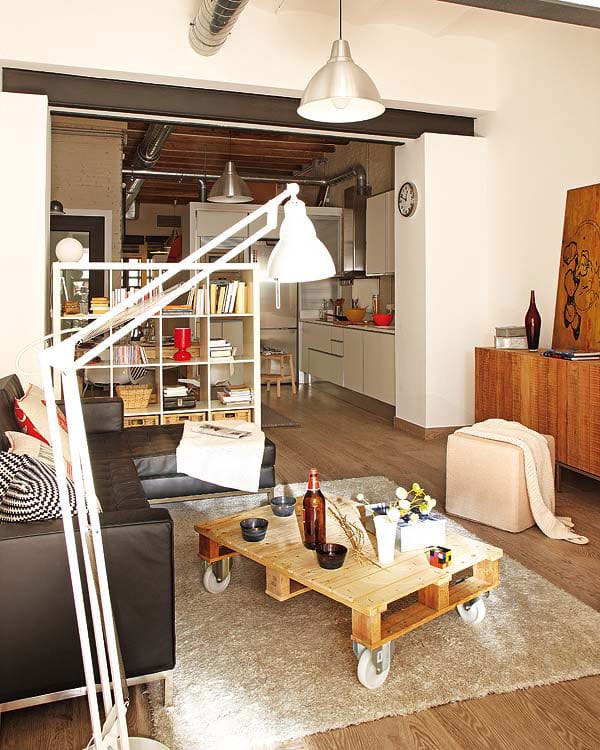 This apartment uses a shelf in order to separate the space and, what is more, they've created a functional and cheap decoration by recycling pallets.
Interior facings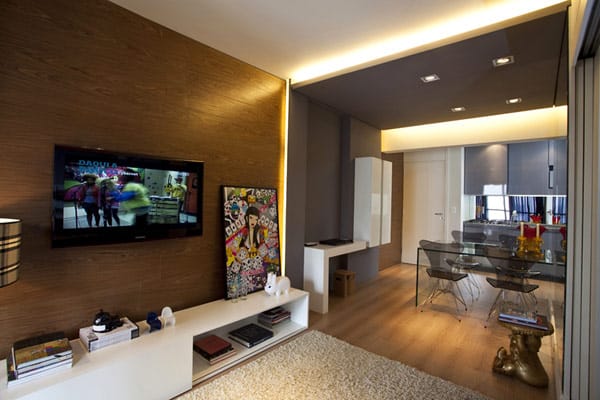 The wall's facings and the carpet divide the different spaces. The transparent furniture creates an effect of visual space. And wall lamps make up for the lack of natural lighting.
Different floor designs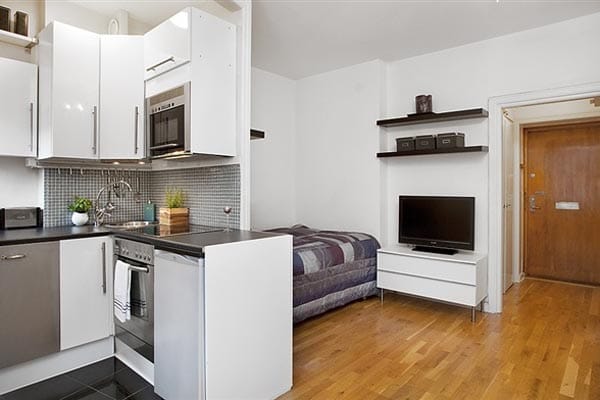 Clay tiles and wood, marble and terrazzo… Separate the spaces of your apartment with different materials.
Natural details
Decorate your small apartment with white and green details. In this case, they've placed some flowerpots around the place. The contrast between white and vegetation is wonderful.
Unnatural lighting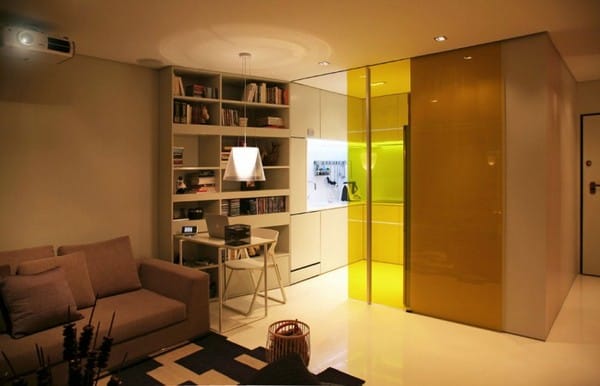 If you have a small apartment and you're lack of natural lighting, use lamps strategically to balance this out. Moreover, transparent doors are a great option in these cases.
Vertical stripes
Vertical strips will make your apartment look higher if your ceiling is pretty low. In this example, they've opted for a white and green combination.
Narrow apartment
White and wood, this apartment is well organized. The kitchen and the living room go perfectly with this black combination. The sofa separates the space.
Color homogeneity
As you can see in the picture above, grey is perfect for homogenizing the space.
Is it a bed or a library?
This is a witty way for hiding the bed while you don't need it. Besides, you can use this piece of furniture for keeping your books, DVD's and other stuff.
White and beige
Even if this has two floors, the apartment is pretty small. White and beige combination creates a very pleasant atmosphere. Combining different shades of the same color will provide your apartment with some visual space.
Black and white apartment
Take advantage of high ceilings. This black and white decoration is superb.
Living room & dining room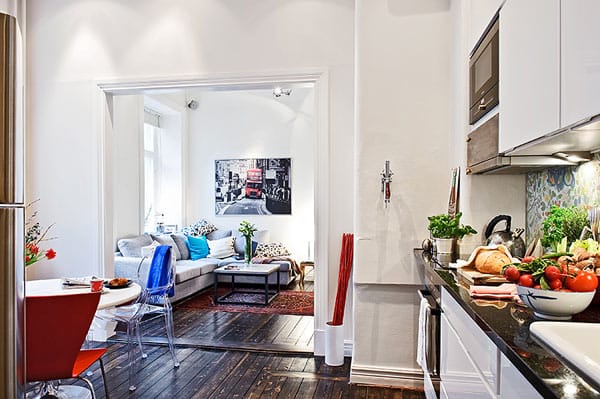 This open design looks perfectly with that black and white combination. And the wooden floor is charming and warm.
Combination of white and wallpaper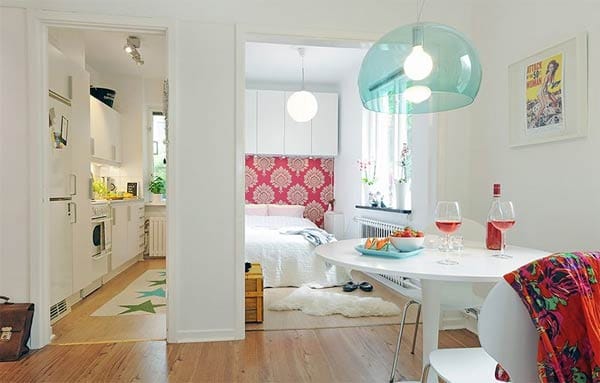 The bedroom stands out thanks to wallpaper and goes perfectly with the mostly white decoration.
Grey and orange décor
This apartment, with the bedroom upstairs, combines perfectly grey and white tones with the orange details.
Built-in kitchen and TV
Built-in furniture is ideal for small apartments.
Folding and stackable furniture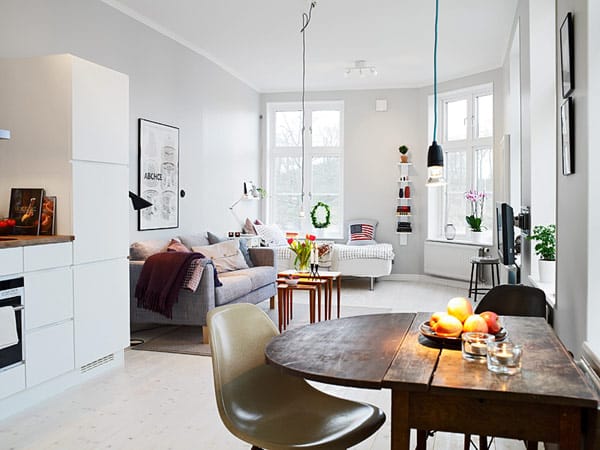 Use folding and stackable furniture in order to take advantage of the space you have. Folding and stackable furniture can be gorgeous as you can see in the picture above.
Shelves for separating spaces
This is practical and beautiful and, what is more, the unnatural lighting is really good.
Kitchen island for separating spaces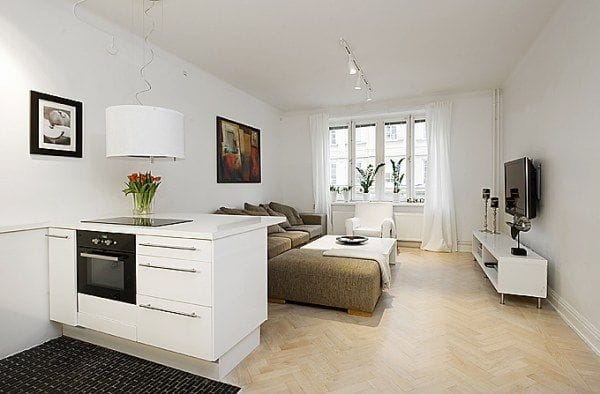 The small kitchen island separates this apartment. It doesn't take much space and it's functional and very decorative, don't you think?
Bricks and wallpaper combination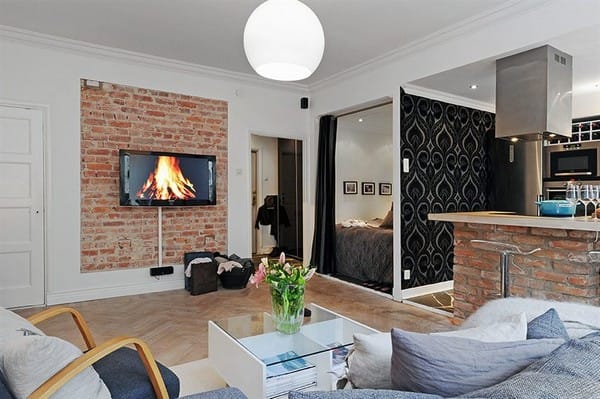 Bricks wall provides a rustic and industrial touch while the black wallpaper provides some glamour! This kind of combination is just wonderful!
Black and elegance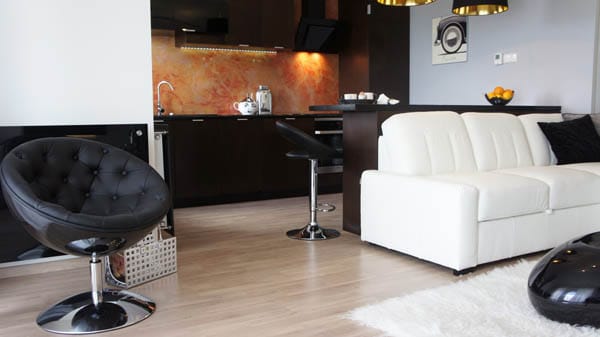 This gorgeous color is easy to combine with many others. In this case, it goes perfectly with white for creating separated spaces.
Loft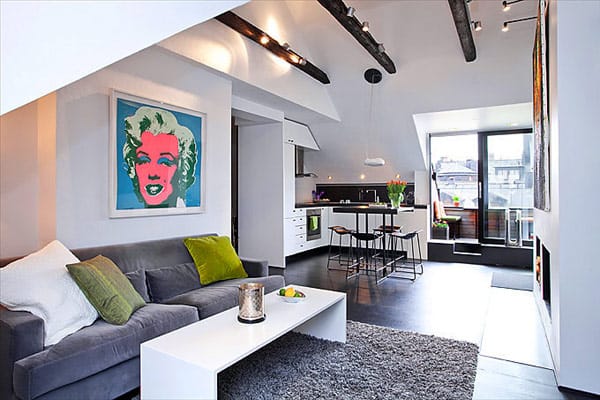 Bohemian, well illuminated and elegant: this charming apartment is superb.
Wall or table?
This interesting structure can be fantastic for decorating a small apartment. As you can see, the wall serves as table where you can work, study or eat as well.
Spaces separated by height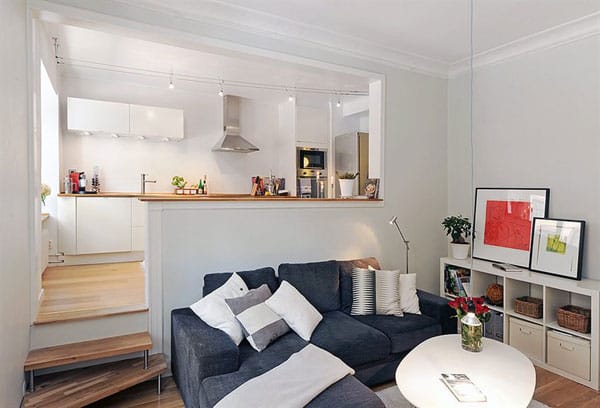 The bedroom and the kitchen are in different spaces. The kitchen takes advantage of the best lighting for cooking while the bedroom has a soft lighting thanks to a wall.
An apartment with fireplace
This apartment is small but well structured.
DIY home
If you like handcrafting with wood, you can use some of those for making a wall.
Purple apartment
This idea is great if you love purple. You can combine this beautiful color with other colors or use different shades of purple.
White decoration
White is always a great option for small apartments, don't you think?
There are wonderful ideas for taking advantage of your apartment space. You can choose among lots of styles, designs and decorations. In Freshome, you'll find more about these apartments.
Which one did you like the most? Which is your favorite style? You can share your ideas with us in the comments or in our Facebook page.
Via decoración 2.0